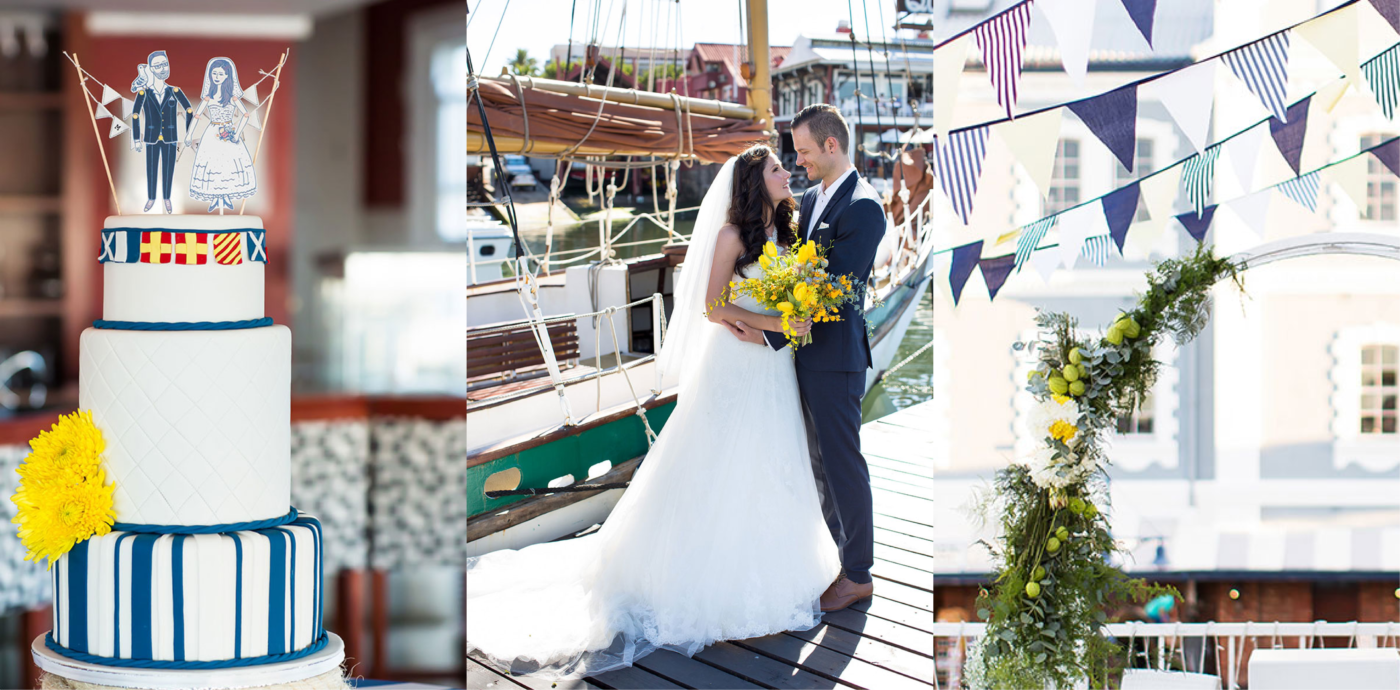 12 Nov

Candice & Justin: Setting sail into a happily ever after

Justin and Candice, a stunning couple from JHB, decided to come and tie the knot in Cape Town and roped us in to help them plan their nautical nuptials. They had decided on a venue at the V&A Waterfront and we were very excited about the blue, yellow and white colour scheme to tie in with their theme.

The venue, The Alba Lounge, really lended itself to the theme and was very easy to transform. The ceremony took place on the deck, overlooking the gorgeous harbour and all the yachts, so we needed to do very little in terms of décor to pull the theme through. Lucky for the groom (looking very suave in his navy blue suit), his breathtaking bride had no intention to cut and run and on the beautiful, sunny afternoon in early February, they said their 'I do's' with friends, family and a few seagulls as their witnesses.

After the ceremony, the guests were treated to snacks and cocktails on the deck, while they set sail on a yacht to have their photo's taken. The atmosphere was relaxed and the guests were treated to one of the most spectacular sunsets we have ever seen.

Once the couple returned, everyone had dinner together in the dining hall. A few speeches were made, a few tears were shed in between the laughter and from there on it was plain sailing as they danced the night away in the lounge.

We loved being a part of this special couple's special day and get waves of nostalgia every time we look at their beautiful photo's.

















Credits:
 Photography: Wesley Vorster
Venue and catering: The Alba Lounge, V&A Waterfront
Co-ordination and planning: Blank Canvas Event Design
Stationery: Secret Diary Designs
Special lighting: Something Different concepts and shows
Nautical décor: My Pretty Vintage
Flowers: Fleur le Cordeur
Videography: Boy Meets Girl Cinema
Cake: Florentines