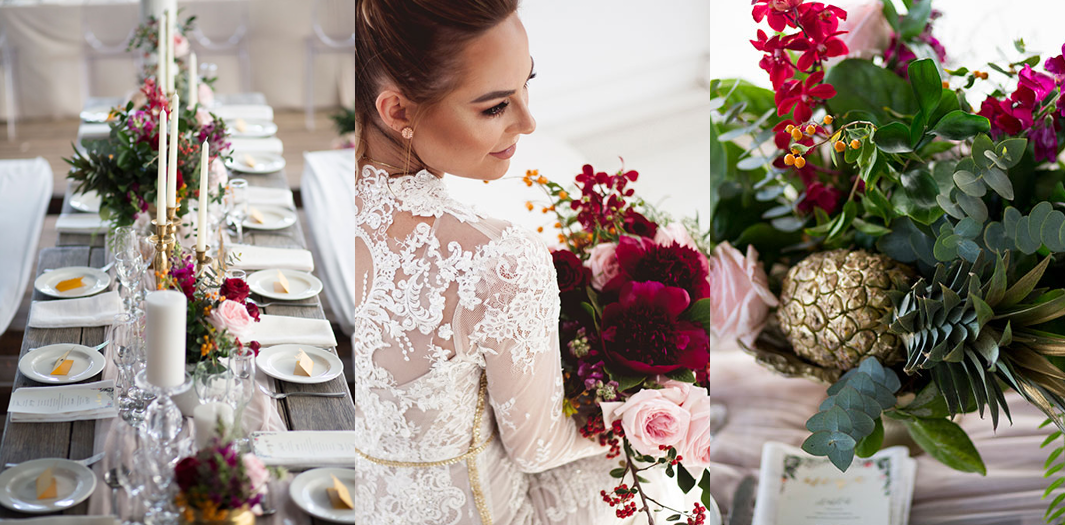 05 Feb

K & J: Strandkombuis, Yzerfontein

In our industry you don't often get repeat clients, so it was a huge honour for us to be chosen to be a part of this beautiful bride's journey again. It's bittersweet to blog about this wedding now knowing that it was the last wedding we would ever do at "the original" Strandkombuis, since the venue was wrecked by the elements a little while ago. It's also in remembrance of the heart and soul of the venue, Oom Natie, who sadly passed away a few months ago.

But…let my nostalgia not distract from the reason for this post: this gorgeous wedding! The couple wanted a rustic, bohemian feast for their celebration and we got to play with the rich, bold colours that are synonymous with this theme. Hues of ochre and marsala were complimented by deep greens and lush pinks and the tables were softened by the softest, blush tuille runners.

The ocean was very eager to join in the fun and the guests got cold feet from the tide rushing in ahead of schedule during the ceremony. Luckily, it was a sweltering hot, April afternoon and at the reception we only dropped the sides of the tent much later that evening – almost as if the sun wanted to gift the couple with the beautiful view for as long as possible.

The entire day was a celebration of love, a feast of happiness and a beautiful start to the couple's adventure together!



















Credits:
Planning and co-ordination: Blank Canvas Event Design
Venue: Strandkombuis
Photography: Menina & May
Flowers & décor: Dear Idea
Ceremony tent: Cape Tents
Stationery: Lezanne's Designs