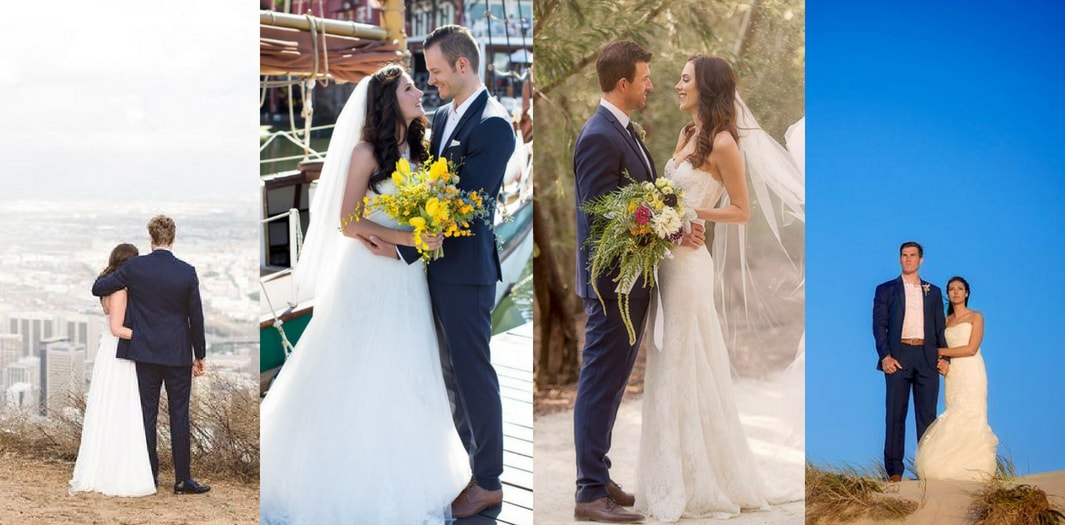 01 May

Planning The Ultimate Destination Wedding In South Africa

They say South Africa is perfect for a destination wedding.

But where do you start?

We'll show you all the best spots in our beautiful country to get married.

Whether your fondest childhood memories are of running barefoot along the South African coastline on a secluded beach somewhere, or you've been dreaming of visiting the Southernmost tip of the African continent since you first laid eyes on photographs of the rolling hills, breathtaking vineyards and indigenous fynbos; choosing to host a destination wedding in South Africa is a no-brainer for some.

Others need a little more convincing. If you're from the continental US, the majority of the destination weddings you've heard of or been to have been in the Caribbean, the Bahamas, Hawaii; basically either beach weddings, or, occasionally, European breakaways.

What if we told you South Africa is a destination wedding mecca, where every bride will find exactly what she's looking for if she knows the right people on the ground? (Spoiler alert: we're the right people).

South Africa is the ideal destination wedding setting whether you favour beach weddings, a wine farm setting, desert landscapes or traditional ballroom affairs – and here at Blank Canvas we know all the insider spots in every biome imaginable.

No matter what your vision for your destination wedding, Blank Canvas can make it happen in South Africa!

Are you ready to explore South Africa and see what we have to offer?
Spoilt for Choice
South Africa's biodiversity is absolutely astounding. From deserts to grasslands, beaches to vineyards, no matter what you've dreamt the backdrop to your nuptials would look like; you can find your dream destination wedding venue in South Africa.


DNA Photography
Also see – Justin & Candice – Setting Sail Into a Happily Ever After
– Wine Country –
South Africa's Western Cape province is world famous for its prolific and abundant wine farms and vineyards.
Whether you're looking for a rustic venue with small-town charm, or a ballroom and sweeping terraces, there is a wine farm somewhere in the Western Cape for you!
Winelands weddings are not only popular with international couples planning destination weddings, but are popular among locals as well.
As such, couples would be well-advised to book their venue at least a year in advance if they plan to get married during peak wedding season (in South Africa, this would be November through March).
Pro Tip: Getting married in South Africa can work out much cheaper than getting married at home – especially if you plan a winelands wedding out of season.
By booking your destination wedding for the spring months, you would not only save money, but avoid the sometimes scorching Cape Winelands heat!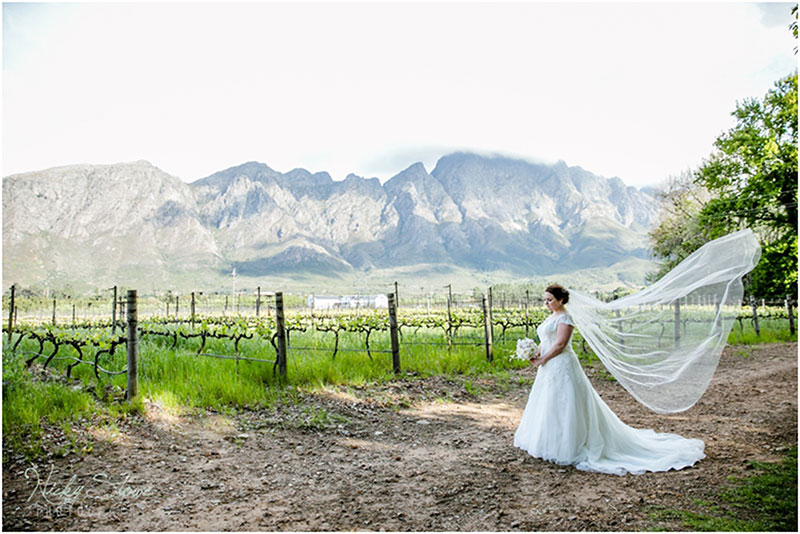 Nicky Stowe Photgraphy
Some destinations to consider may include:
Stellenbosch, a small University town famous for its Cape Dutch architecture and overwhelming number of wine farms and vineyards.
Durbanville, a more suburban, family-oriented area famous for its adorable guest-houses nestled between working wine farms and vineyards. Durbanville is also a stone's throw away from the Cape Town CBD (think bachelorette party, group outings to famous landmarks etc.), and the views of Table Mountain are breathtaking!
Wellington, an option considered off the beaten track, Wellington is home to a wide variety of rustic barn-type wedding venues, as well as numerous cosy inns and country houses. Wellington is also an ideal destination for a spring wedding, as summer temperatures skyrocket to highs of over 40 degrees celsius! (That's 104 degrees fahrenheit!)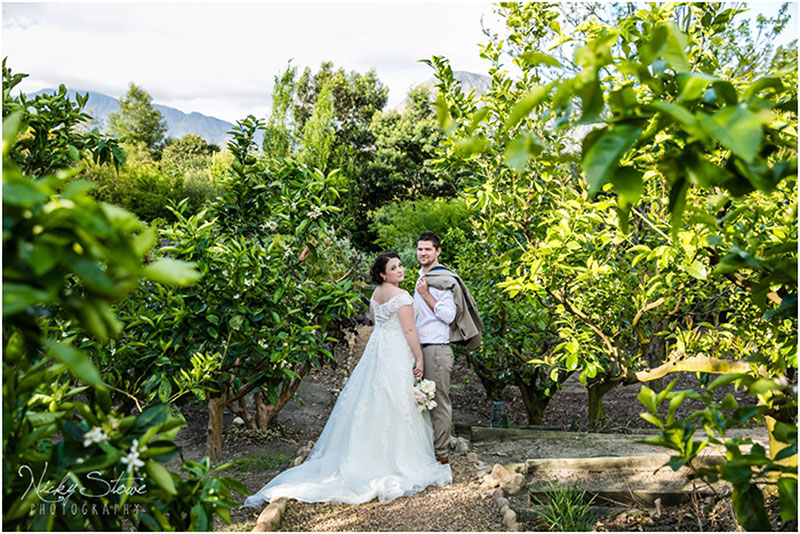 Nicky Stowe Photgraphy
Blank Canvas insider conclusion: Winelands weddings in the Western Cape can be whatever you want them to be. Whether you're looking to dress up a more rustic venue in typical reclaimed country style, or are looking for an upmarket, modern wine estate with endless views of rolling hills, pale blue mountains and perfectly manicured lawns, the Western Cape Winelands can and will deliver!
Also see – Lauren & Corne Holden Manz, Franschhoek and A Fairytale Wedding In The Winelands
– Beach Bliss –
Surrounded by two oceans on three sides, South Africa has no shortage of incredible settings for beach weddings.
Whether you're looking to get married barefoot on the beach, with the sand between your toes, or would prefer to get married with a view of the ocean, and the salt air in your lungs, but think "sand" and "wedding dress" just don't go together, South Africa's pristine coastline, which is also home to some of the most elegant and luxurious hotels in the world, will have the destination wedding solution to make your dreams come true!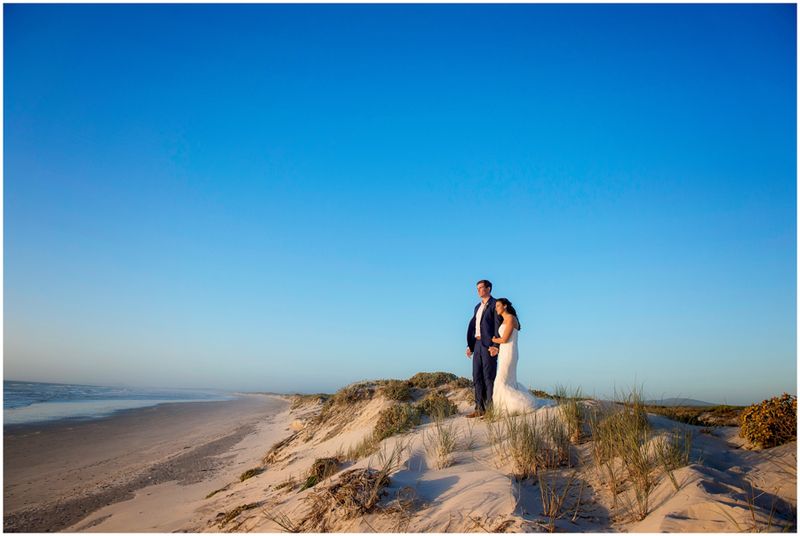 Lindy Truter Photography
Pro Tip: Getting married on a private beach in South Africa may mean you have the beach to yourself, but it may not.
Some hotels and luxury accommodation chains with private beaches will ensure you have exclusive use of the beach for the duration of your wedding ceremony, other larger accommodation options may not be able to ensure exclusive use of their private beach, and may not be able to restrict access by other guests of the establishment.
Always best to stress your desire for exclusivity to your wedding planner, so that they can help you weed out wedding venues that don't meet your requirements.
Also, as the weather in South Africa can change on a dime, make sure your venue has indoor facilities you're happy with should you need to move the festivities indoors at short notice.
The best months in which to plan a beach wedding in South Africa are September/October, and March through April.
That way you miss peak tourist season, save money, and won't positively melt from the extreme heat in your wedding dress!
Some destinations to consider may include:
Grootbos Private Nature Reserve, an absolutely breathtaking luxury accommodation option with private villas and suites featuring walk-in showers, outdoor showers with views of the coastline and the fynbos forests, as well as gorgeous four-poster beds with bay windows that bring the ocean right into your bedroom. Grootbos Private Nature Reserve is the epitome of style and luxury, and an intimate wedding on their private beach followed by cocktails on their Forest Lodge verandah is many a little girl's dream for her big day. Your stay includes 5-star accommodation in private suites as well as 6-course dinners and 3-course lunches, expertly prepared with fresh, local ingredients. This unique hideaway brings mountain, ocean and forest together, in a melting pot of incredible views and unbeatable experiences.
Sea Point, an extension of the Cape Town CBD, and a reflection of exactly why Cape Town was awarded the title of 2014 Design Capital of the World. Beach wedding venues in Sea Point cater to those with luxury on their minds, and minimalist aesthetics in their hearts.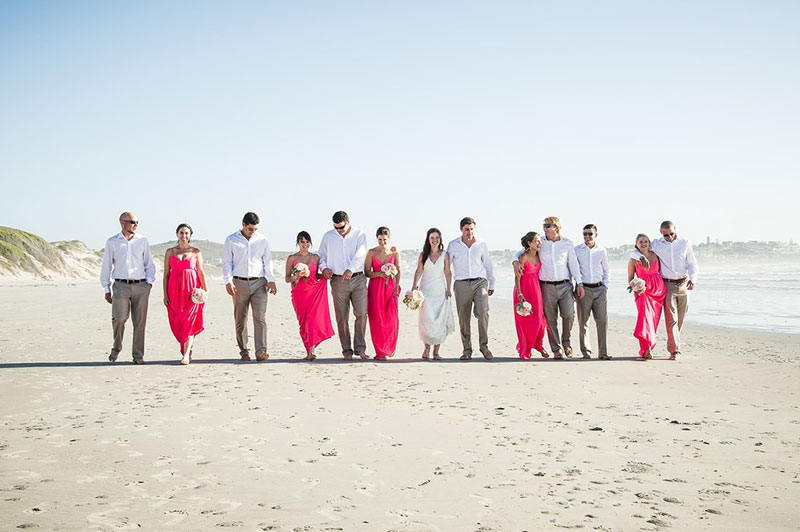 Herman Agenbag Photography
Blank Canvas insider conclusion: Whether you're a laid-back lass looking to get married with beachy braids and sans sandals, or a sophisticated socialite looking to get married with unsurpassed views of the Atlantic Ocean as your backdrop, South Africa's extensive coastline will deliver sights and settings like you could only dream of!
Also see – Rustic West Coast Wedding and Tammy & Matt – Strandkombuis Yzerfontein
– Gorgeous Grasslands –
If you're, as they say in Afrikaans, a plattelandse meisie (a country girl) you might love yourself a grasslands wedding. Lending itself particularly well to the rustic glam aesthetic you will find no shortage of barns, farms, and guesthouses in which, or on whose property, you can get hitched!
If the open fields of the highland are calling your name, you will mainly be looking into a destination wedding in the Free State and Gauteng regions of South Africa, where summer rainfall is the norm, and an out of peak season wedding may not be a bad idea if you're set on setting any significant portion of the festivities outdoors.
That being said, there's nothing lovelier than watching the rain fall all around you from a tented marquis on the lawn, and when it clears again, everyone feels refreshed and replenished, and the outdoor festivities can continue once again!
In fact, the sporadic showers can be a welcome break from the heat!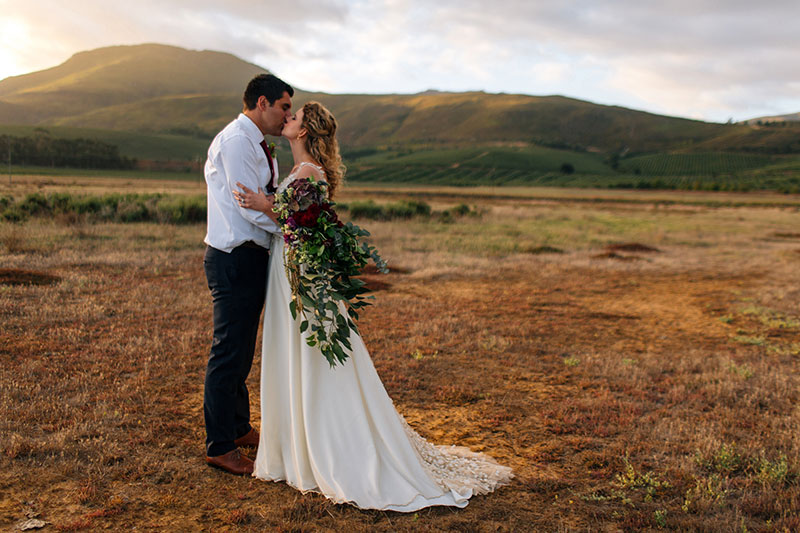 Lindy Truter Photography
Pro Tip: As with most of the areas (and associated biomes) in South Africa, you can find venues in the grasslands, or venues with views of the grasslands. You can find rustic, reclaimed wood barns to get married in, with straw on the floor and crystal chandeliers hanging from bare wooden beams, and/or you can find 5-star luxury hotels with world-class ballrooms and bay windows overlooking the wide open plains.
It's all about your vision for your big day – let us know what you see when you close your eyes and your imagination takes flight, and we'll bet you dollars to doughnuts we know of a venue in South Africa that can make your dreams come true.
Some destinations to consider may include:
Hartbeespoort Dam

, west of Pretoria. The dam from which the area derives its name is nestled between the Witwatersberg Mountain Range and the Magaliesberg Mountain Range. This popular wedding destination, even for locals, boasts a million and one fun and quintessentially South African activities for you and your guests to get stuck into before and after the wedding festivities. Hartbeespoort Dam boasts venues catering to the more opulently minded bride, and minimalist bride alike – if you can dream it, there's a venue in the Hartbeespoort Dam region who can do it.  

Mpumalanga

. Home to the Blyde River Canyon, this province also embraces the Southern half of the Kruger National Park, home of the Big Five! This province, the name of which means "the place where the sun rises" in Zulu, is where nature-loving luxury travellers have come to wed and be wowed by all the animals under the African sun since time immemorial.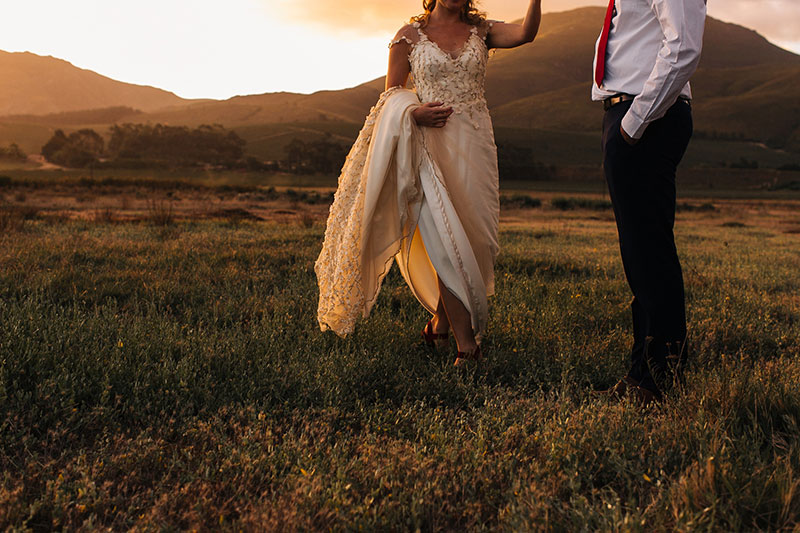 Lindy Truter Photography
Blank Canvas insider conclusion: If you're a country girl at heart, nothing can compare to a gorgeous wedding in the grasslands. Nature enthusiasts, and animal lovers alike will get a kick out of the tourist attractions and associated excursions in the area, and the safari lodges and game reserves in the immediate area make for fantastic options for a wedding-turned-honeymoon!
Also see – Shelley & Nico – Elandskloof, Greyton and Kirsty and Adam – A Farm Style Wedding Celebration
– "I Do" in the Desert –
If you're a bride who's all about strong contrasts, nothing could be quite as stunning as taking your wedding portraits against the desolate backdrop of one of South Africa's deserts.
The Kalahari Desert is a large, semi-arid and sandy savannah that calls to many a bohemian bride.
With rolling dunes as far as the eye can see, tons of space, peace and quiet; the Kalahari Desert is your destination wedding playground! Whether you want to keep things earthy and natural (think neutral colour palettes and clean lines) or go completely bohemian (think jewel-tones, copper, brass, lounge areas), the Kalahari Desert has a wedding venue that can realize your vision, with help from Blank Canvas.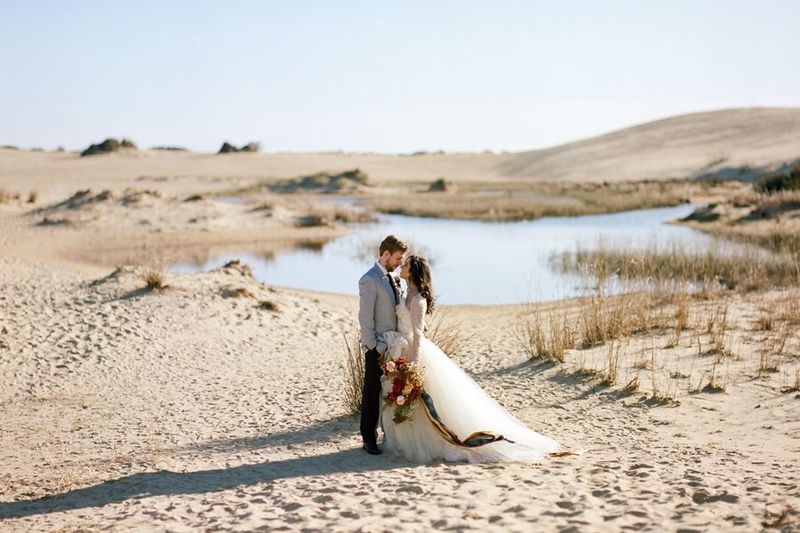 Pro Tip: If you're planning desert nuptials, you need to make sure both you and your guests and entourage are dressed appropriately! Unfortunately, having your heart set on both a ballgown with a 10m train, and the desert means one of them will have to go!
Heat-stroke is not a good look anybody! On the plus side, an ultra-warm wedding destination allows the alternative bride some fun and creative opportunities to play with textures and non-traditional fabrics when it comes to having her wedding dress made!
When in doubt, or if at all possible – come down to South Africa a couple of times before your wedding and have your dress designed and manufactured by a trusted local designer – nobody knows what will and won't stand up to the heat like the locals do!
Some destinations to consider may include:
The Kalahari. Whether you're hoping to get married in the middle of nowhere with only the dunes and the sun surrounding you, or whether you're hoping to be able to cool off in an air conditioned reception hall once you're finished with the legalities, there are gorgeous wedding venue options aplenty in the Kalahari.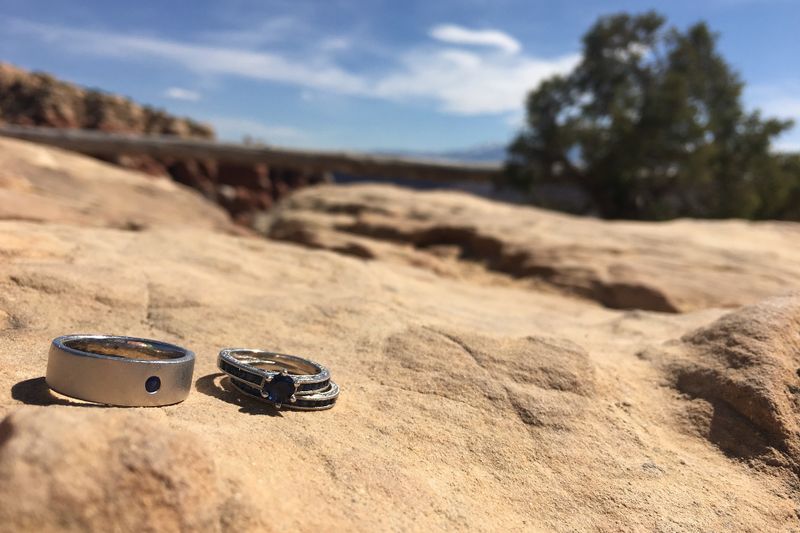 Blank Canvas insider conclusion: A gorgeous backdrop against which to tie the knot, the Kalahari Desert is hauntingly beautiful and will make for some memorable wedding portraits, and the setting for one hell of a party! If you're looking to celebrate a destination wedding outside of the "been there, done that" bracket, then saying "I do" in the desert in South Africa may just be right for you!
– Fairytale Forest Wedding –
If you long to tie the knot under an ancient oak, or with a natural ceiling of lush green above you, a fairytale forest wedding may be for you, and there may be no better place to host one than in South Africa.
Whether you have your heart set on the Western Cape, for its proximity to Cape Town and some seriously stunning beaches for the honeymoon, the Eastern Cape, Kwazulu Natal, Limpopo, or even Mpumalanga (safari honeymoon anyone?), South Africa has forests for Africa.
Whether you're looking to get married in the great outdoors, or inside looking out, there are a number of options across the country to suit your individual needs.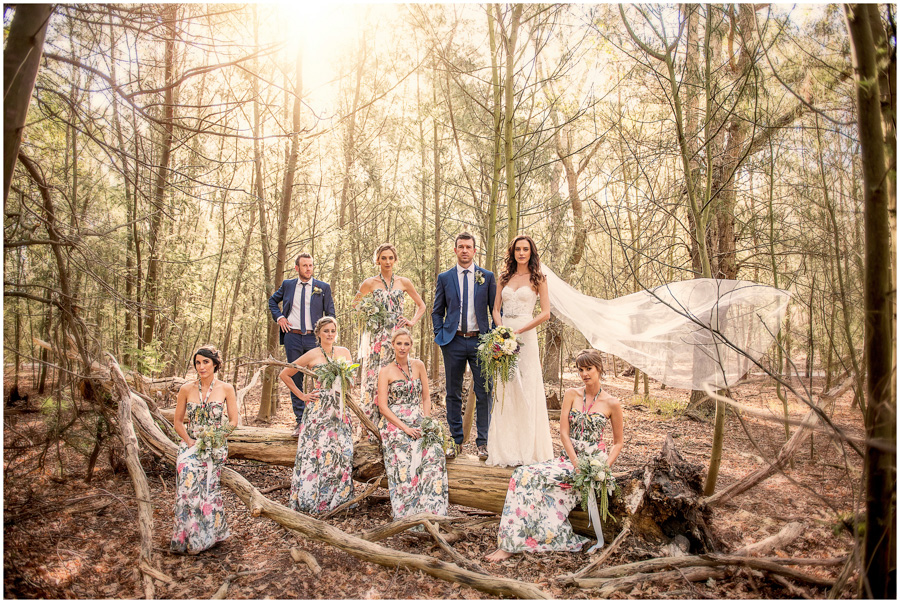 Lindy Truter Photography
Pro Tip: Take allergies into account when planning your fairytale forest wedding; both your own and those of your guests. If there are going to be serious pollen allergy sufferers in attendance, perhaps opt for a forest setting with minimal flowering blooms nearby.
If you know somebody has a severe grass or hay allergy, avoid more informal seating options like hay bales and picnic-style receptions. It is not only fauna and flora allergies that need to be kept in mind though! If you are planning your ceremony and/or reception outdoors, be sure to keep antihistamines, an epipen and some insect repellant on hand for anyone who suffers from allergies to critters.
Some destinations to consider may include:
Grootbos Private Nature Reserve, an absolutely breathtaking luxury accommodation option with private villas and suites featuring walk-in showers, outdoor showers with views of the coastline and the fynbos forests, as well as gorgeous four-poster beds with bay windows that bring the ocean right into your bedroom. Grootbos Private Nature Reserve is the epitome of style and luxury, and an intimate wedding in the naturally secluded fynbos forest followed by sundowners overlooking the sea sounds like bliss to us! Your stay includes 5-star accommodation in private suites as well as 6-course dinners and 3-course lunches, expertly prepared with fresh, local ingredients. This unique hideaway brings mountain, ocean and forest together, in a melting pot of incredible views and unbeatable experiences.
In the Forest. A hidden gem for the arty soul, In the Forest is the kind of venue where you can get married barefoot with a flower crown, and have a firepit at your open-air reception. This venue lends itself well to being dressed up or down, and is really a blank canvas on which we, here at Blank Canvas, can help you paint the masterpiece you've always imagined. A perfect setting for a more laid-back family affair, In the Forest also makes for a fantastic venue for the destination wedding that will be attended by any number of children.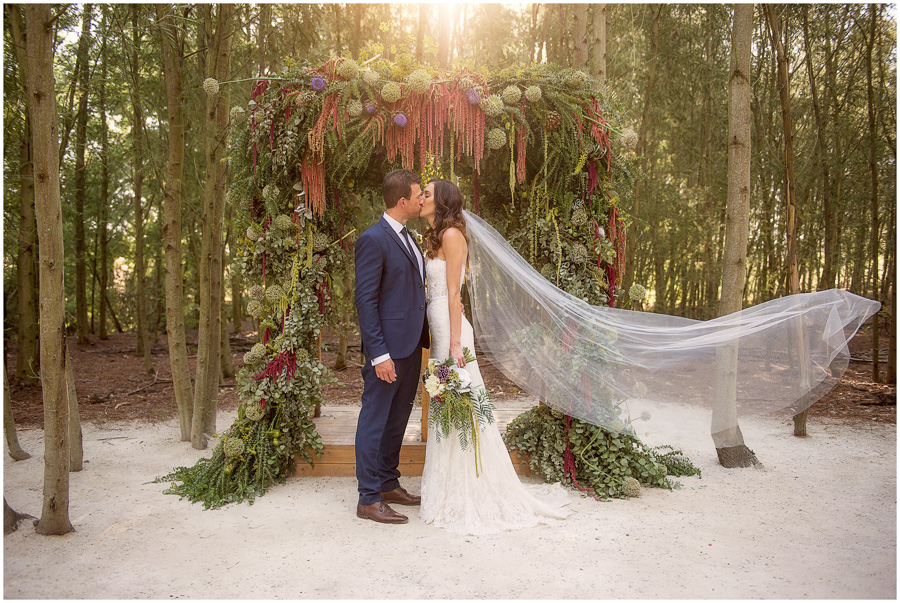 Lindy Truter Photography
Blank Canvas insider conclusion: Whether you're a "camping" or a "glamping" kind of girl, there are any number of forest venues scattered across South Africa just waiting for you to dress them up, or down, it's up to you!
While a forest wedding is most likely going to take place in summer, and thus in peak wedding season, making use of a professional planner and coordinator like Blank Canvas still means you'll be benefitting from our insider connections and saving money in the long run! Forest wedding venues are best booked far in advance if you plan to get married at the height of wedding season!
Also see – Claire & Darren – Die Woud, Caledon
– Love Reaches New Heights: Mountain Weddings –
If your love lifts you up where you belong, where eagles fly, on a mountain high, perhaps a destination mountain wedding is the one for you.
Whether you're keen to keep things cosmopolitan with a cool rooftop wedding in the Cape Town CBD with Wonder of the World, Table Mountain as your backdrop, or whether you're keen to say your "I dos" on the actual rockface, South Africa has tons of cool mountain wedding options for you to pick from!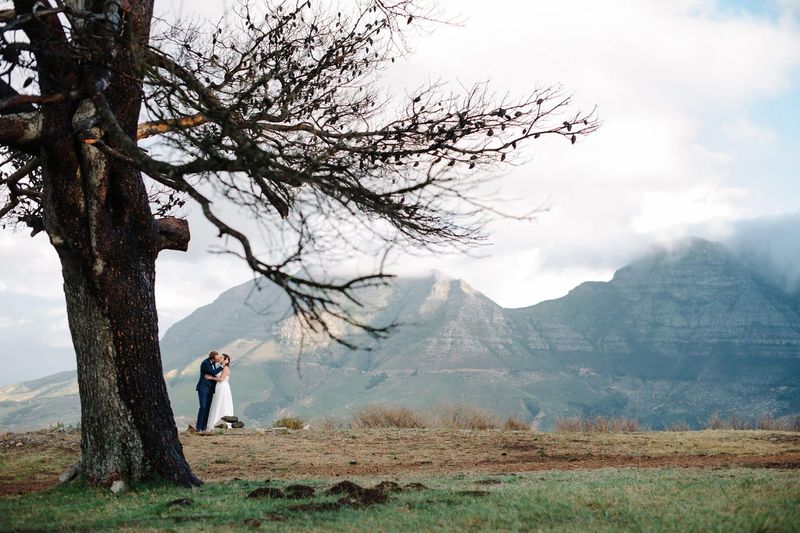 DNA Photography
Pro Tip: If you decide to get married at any sort of height, consider how guests with limited mobility will reach your ceremony and reception venues. I.e. when scoping out potential venues, check and see if paths are navigable by wheelchair, or whether cars can drive right up the incline to the entrance to the venue.
Also, keep an eye out for cobblestones and other uneven surfaces – if you're planning to wear heels on your big day, these could spell disaster while you're walking down (or up) the aisle.
Some destinations to consider may include:
Bushmans Kloof Wilderness Reserve and Wellness Retreat. This gorgeous wedding venue was voted No.16 in the Top 40 Resorts in Africa in the Conde Nast Traveler Readers' Choice Awards 2017! Tie the knot at the breathtaking Embers Ceremony Venue, a natural sandstone amphitheatre perches on a dramatic cliff that overlooks the valley below. With a myriad of candles, and a roaring fire, ambience is guaranteed!
Twelve Apostles Hotel and Spa. This gorgeous hotel and spa which offers breathtaking views of the mountain range was voted No.6 in the Top Hotels in Africa & The Middle East Conde Nast Traveler Readers' Choice Awards 2016! Tie the knot with the mountains as your backdrop, and have your reception on the Atlantic Marquee Terrace and smell the ocean air.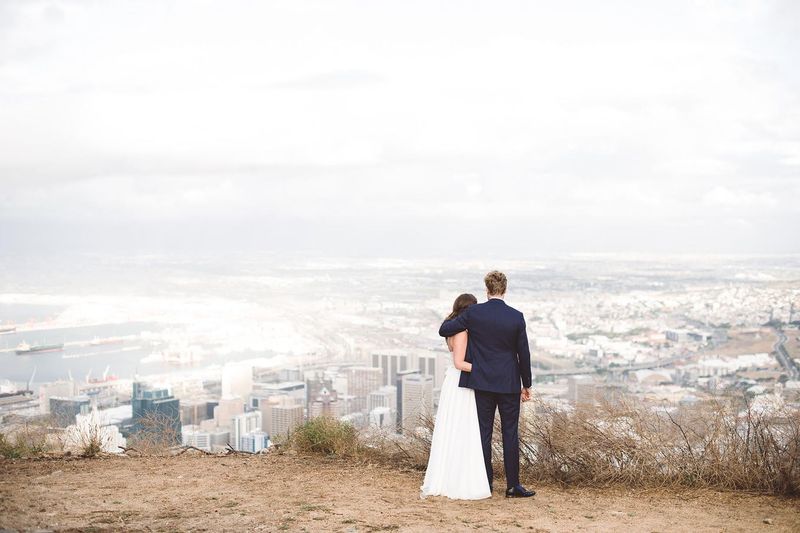 DNA Photography
Blank Canvas insider conclusion: A mountain wedding can be a fun and fresh take on the outdoor ceremony/reception trend, and offers the couple the opportunity to be at one with nature on their wedding day without necessarily having to be barefoot on the beach, or suffering from hayfever in a forest. Mountain venues tend to work well with minimalist aesthetics and offer incredible opportunities to use natural lighting elements and earth tones.
Also see – Jim & Jody – A Misty Mountain Wedding Celebration
Important Things to Consider When Planning a Destination Wedding:
How will you pick the best location?
It is incredibly difficult to commit to a wedding venue you've never seen before, however, thousands of destination wedding brides do it every year! Do you want to know their secret? They hire a planner and coordinator that they know they can trust, like the team at Blank Canvas.
A google search of a venue is only going to tell you so much, and if you're unable to tour your venue options yourself, you're going to need to be able to have a lot of faith in your proxy who checks them out for you!
In an ideal world, our team would love to show every destination wedding bride around any number of venues of her choice before she makes a final decision, but knowing that that is not always possible, we will always endeavour to help our brides make informed decisions that best suit their vision for their big day.
When will you get married?
Referring to both time and date, when you will get married is crucial to consider when planning your destination wedding. If you and yours will be suffering jet-lag, planning to have the wedding at any hour which would be unreasonable at home may result in your guests and yourself not fully enjoying your wedding day due to fatigue.
Similarly, you want to make sure of the seasons and rainfall patterns in your wedding destination on your chosen date – something may have to give, whether it be your dream of a summer wedding in South Africa, or your dream of a June wedding – you couldn't do both if you tried as June is practically the height of winter here.
The Budget
Yes, it can be far cheaper to plan a destination wedding in South Africa, especially if the exchange rate is in your favour, but you can also quickly spend an equal amount of money, if not more if you do not know exactly what you want or do not have a local professional on your side making sure you are not taken advantage of.
Setting your budget before making any inquiries is as solid advice for a bride planning a destination wedding as it is for a bride planning a wedding right in her own backyard, so to speak.



Research local wedding regulations/requirements
As a foreigner getting married on South African soil there will be some legal requirements in order to register the marriage with your own government.
You will need to look into these requirements before you book your destination wedding or make too many plans – you wouldn't want to return home only to find out you're not actually legally married!
Hire a Wedding Planner
While you may think communicating with someone on your side of the world is easier, it pays to have a local to your destination of choice on your side – especially where there is a potential language barrier!
As locals, we know all the best vendors, the hidden gems, and the local pricing structures, so we know how to get you the best quality at the best price every time.
Local Vendors vs. Destination Vendors
If you have your heart set on a local photographer but you're planning your wedding on another continent it may be wise to ask your wedding planner at the destination for some recommendations of good photographers they've worked with in the past.
If you end up using a local-to-you vendor instead of a local destination vendor, you will have to pay for their accommodation and travel expenses to the wedding destination, not only their services. You can save a lot of money by trusting your wedding planner to put you in touch with great service providers in the country in which your wedding is going to take place.



Save the Dates
When you're planning a destination wedding, especially in peak tourist season, you need to give your guests a heads up at least a year in advance so that they can make the necessary travel arrangements and accommodation arrangements before prices soar.
Also, let your bridal party candidates know ahead of time that the wedding will be in South Africa, or whichever destination, so that they can gracefully decline the invitation ahead of time if money is tight, as opposed to accepting your invitation to be a member of the bridal party, only to have to back out due to a lack of available funds to travel to the wedding.
Make sure to take care of your guests
Traveling can be especially hard on children, the elderly, those with anxiety, and those with travel-related illnesses, such as motion sickness. Getting on a 12-hour plane ride isn't anyone's idea of fun; so make sure you take care of your guests when they arrive at the destination.
Maybe they'll be overwhelmed, for some it may be their first trip abroad – help them out with welcome baskets including a map of the area, a list of cool activities and tourist attractions in and around the city, and maybe a voucher for a sightseeing activity or a meal at a cool local restaurant to get them feeling more at home on their first night in the city.
Ultimately, a destination wedding can be a fabulous option, especially for bridal couples whose families are far-flung, or couples who have called many cities, countries, and/or continent's "home".
Whether you choose a destination wedding as a way to elope, a way to bring distant family and friends together, or a way to celebrate your heritage, or a particular chapter in your life as a couple; there is no wrong way or reason to do so.
Whether you want laid back and low key or cosmopolitan and extravagant, rest assured South Africa is a destination wedding planner's dream – contact us today to discuss your destination wedding and what Blank Canvas and the tip of Africa have to offer you.
"Note: Whether you're dreaming of South Africa or the Seychelles, Blank Canvas can coordinate the wedding of your dreams – Contact Us to determine availability and to talk about your dream destination wedding, wherever it may be!"