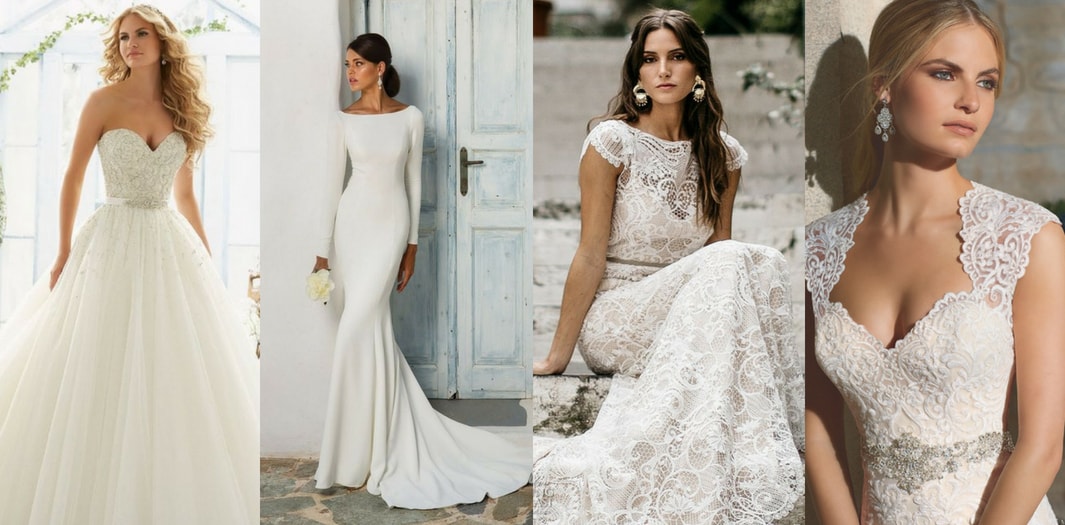 10 May

Wedding Dress Styles: The Ultimate Guide 2018

There are so many wedding dress styles to choose from!

Necklines, waistlines, body types and a million combinations…

So where should you start?

Well, luckily we have a resource just for that.

Here is an easy to use guide that will help you choose your perfect wedding dress.

Wedding dress shopping is like a rite of passage – even if you plan to have your dream dress custom made from scratch, it's fun to get all dressed up and get giggly with your gals over a glass of the free champagne.

Besides, how would you know what suits your body (and budget) if you never try a couple of sample dresses first to see what goes for what?

Whether you're trying on to buy, or simply trying on to get a feel for what you'd like to see in your custom creation at the end of the day – trying on wedding dresses and determining what will suit your body and budget should be a fun and memorable experience.

However, many brides leave dress appointments feeling overwhelmed, and no close to realizing their wedding dress dreams than when they first stepped foot into the boutique.

In order to get the most out of your appointment, and to ensure you and yours keep a cool head and get the necessary info while you're there, be sure to keep reading this ultimate guide to wedding dresses to suit your body and budget – as always, it pays to be prepared!

From preempting styles and silhouettes that are likely to flatter your body, to analyzing current style trends, your own personal style and developing a budget based on that input; this is truly the ultimate guide to wedding dress shopping in 2018!
– Content –
(click to go to section)
Wedding Dress Styles
The style of a wedding dress is determined primarily by its silhouette, its neckline, its waistline and its sleeves (or lack thereof).
Let's dive right in and decode some of the keywords boutiques may use to describe certain styles of a wedding dress, so that you can communicate effectively to sales assistants what you do and do not want.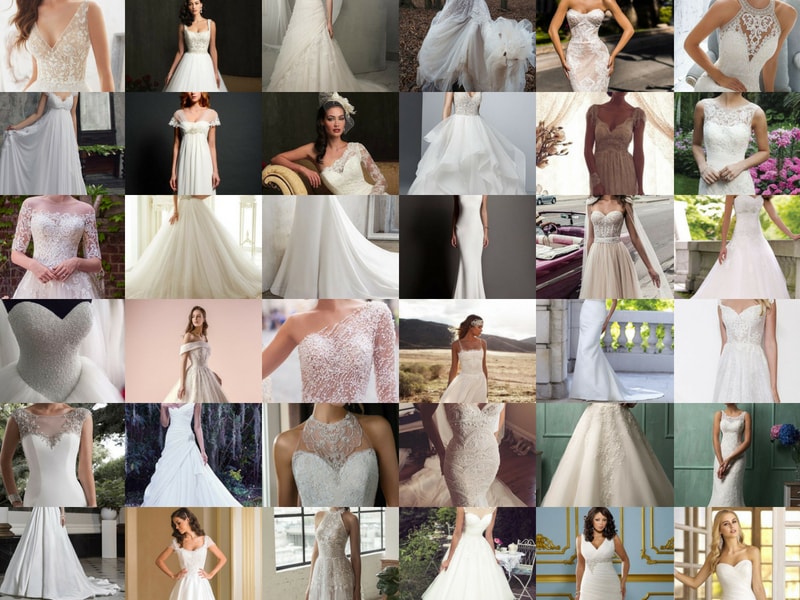 Silhouettes
A-line or Modified A-line Wedding Dress
Think of the A-line as the ball gown's less dramatic sister. This silhouette can and does still flare, but often softly drapes from the natural waistline and can be made to flare more or less depending on the design of the gown and the petticoat or hoop donned underneath.
Modified A-lines are narrower or less full than traditional A-lines.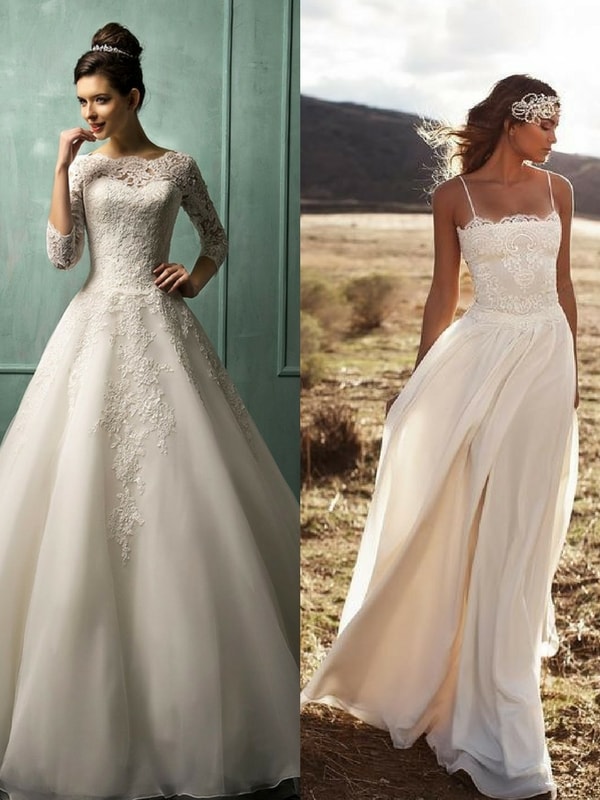 Ball Gown Silhouette
The go-to silhouette if you're after va-va-voom drama, the ball gown silhouette is exactly what is sounds like – a dress fit for a princess. Featuring a figure-hugging, close-cut corset or bodice and a voluminous skirt, this silhouette is all about making a statement!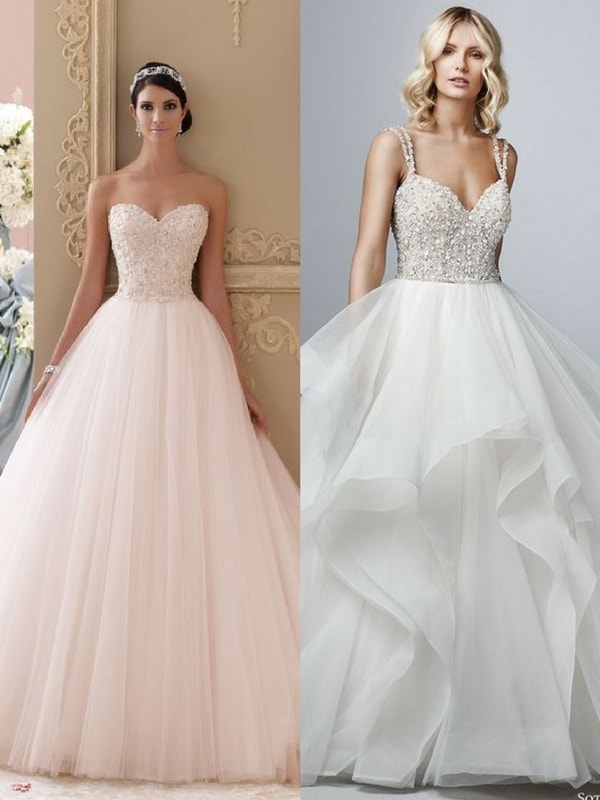 Sheath or Column Wedding Dress
A less figure-hugging alternative to the popular mermaid or trumpet style gowns, sheath or column gowns are cut straight up and down in comparison to A-line silhouettes and ball gowns, but these dresses do not hug the body so much as they elegantly drape themselves from your frame.
The sheath silhouette is usually produced in light fabrics like silk or satin that skim the body beautifully, highlighting verticality and those very modern straight lines even more effectively.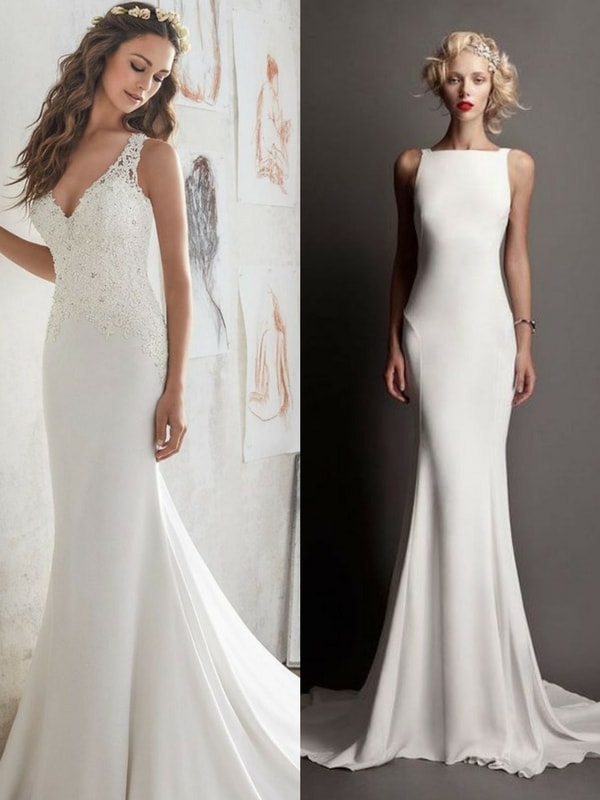 Mermaid or Trumpet Dress Design
The ever-popular mermaid or trumpet style dress is tight-fitted and figure-hugging until usually around the knee, at which point the dress features a flare, whether more subtle as in the A-line or more dramatic and voluminous as in the ball gown.
This flared section can be ruffled, sleek, wide, narrow – the possibilities are endless and each mermaid or trumpet design will bring something new to the table.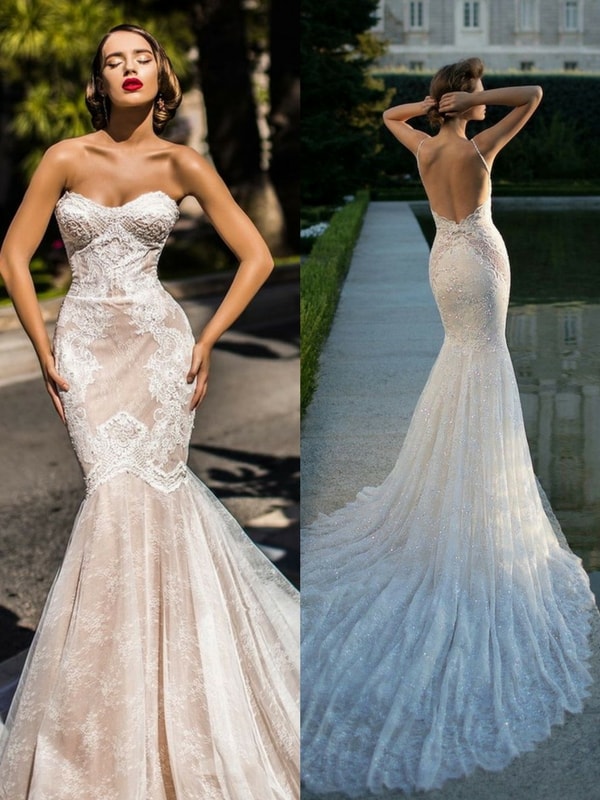 Empire Wedding Dress
The empire silhouette is fitted over the bust and flares from directly below the bust – making this silhouette particularly popular among pregnant brides as the silhouette accommodates a growing baby bump perfectly! The empire silhouette drapes and has volume akin to the modified A-line, giving the illusion of a high waist and skimming the form below.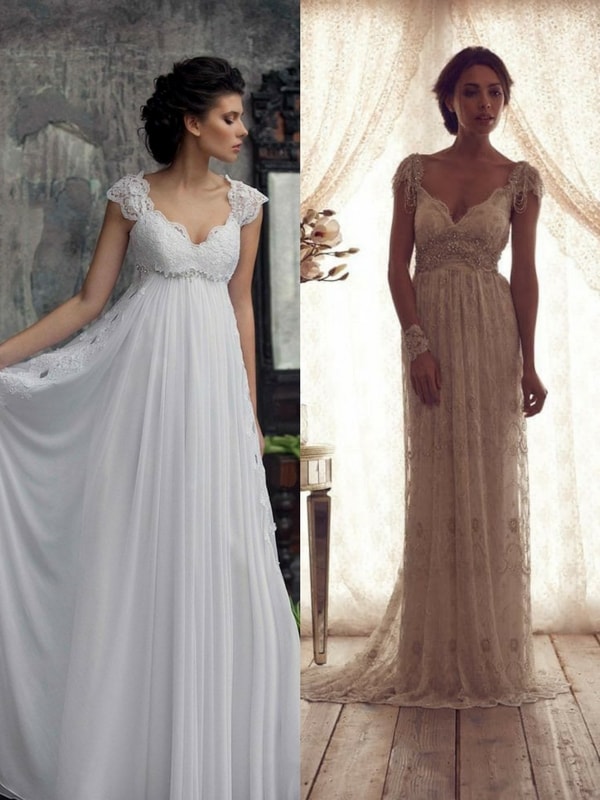 Tea Length Dress
Tea length dresses can really come in a variety of silhouettes but the most common are tea-length ball gowns, as the ball gown shape compensates for the relative casual feel of the tea length. These dresses can, however, also be A-lines, or even modified A-lines.
They typically feature fitted bodices that flare at the natural waist, but unlike the ball gown and the A-line, the Tea Length silhouette is not floor length – rather, the silhouette features a skirt that typically terminates around mid-calf, but can technically terminate anywhere below the knee but above the ankle depending on the design and bride's preference.
This silhouette can be dressed up or down depending on the fabrics used and accessories worn, and gives a bride a lovely vintage appeal.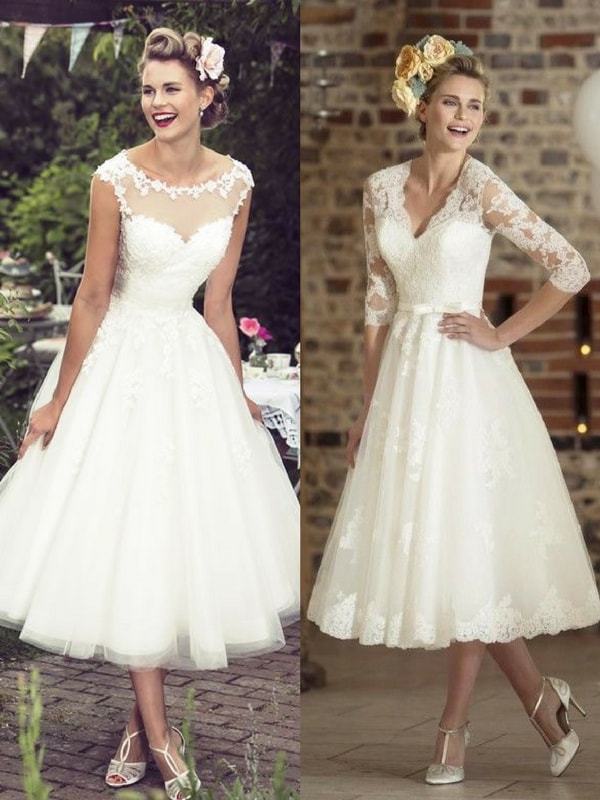 Wedding Dress Necklines
Sweetheart Neckline
The sweetheart of the 21st century bride, the sweetheart neckline is, as the name suggests, heart shaped, featuring a subtle dip into the decolletage, creating the characteristic heart topped shape of the cups and bust on sweetheart neckline gowns.
The sweetheart neckline is popular on all silhouettes, as is usually accompanied by a sleeveless style, but may be combined with certain sleeved styles as well.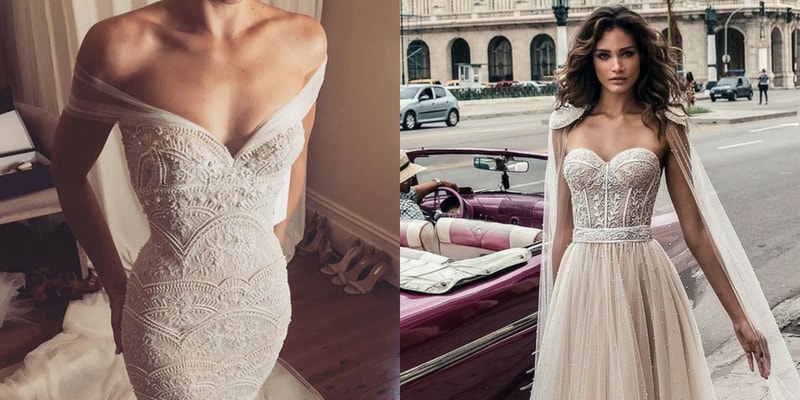 Halter Neckline
The halter neckline can feature a wide variety of styles of straps that tie in a halter fashion behind the neck – leaving the most of the back exposed.
This neckline can really be combined with a variety of necklines, for example, you could wear a v-neck halter wedding dress; as such, some might consider the halter neckline more of a style of strap or sleeve than a style of neckline.
However, as it affects the neckline of the dress, we have included it here.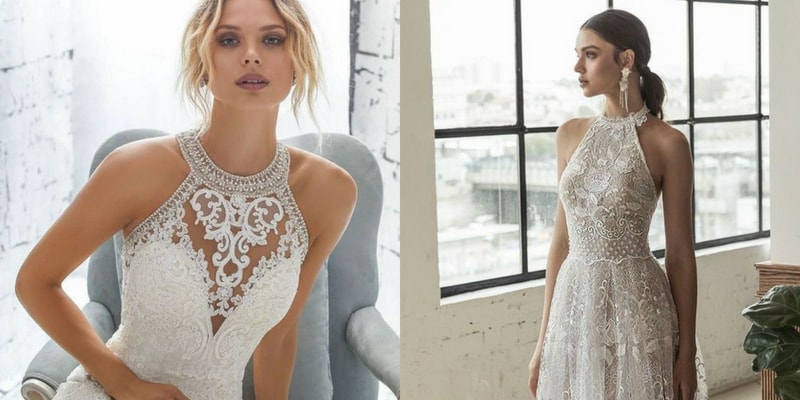 V-Neckline
Whether subtle or plunging, the v-neckline is here to stay. V-neck wedding dresses by definition have straps as it is the straps coupled with the pointed plunge of the neckline toward the decolletage that, combined, create a v-neckline.
That being said, v-neck wedding dresses can have spaghetti straps, long-sleeves, three-quarter sleeves, cap sleeves; the world is your oyster!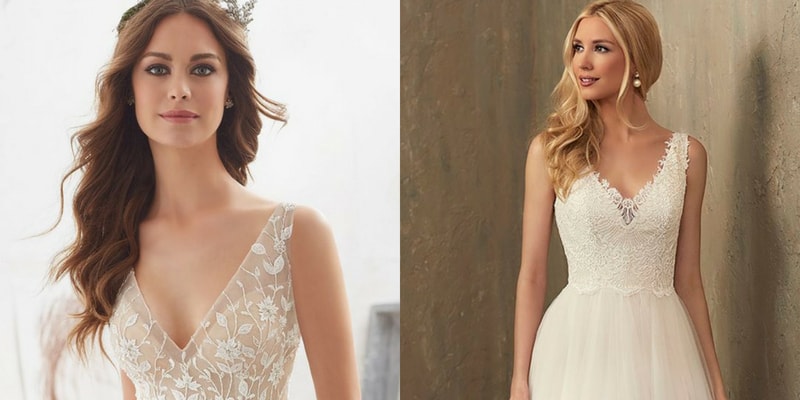 Square Neckline
Square necklines are exactly that – square. The straps going up over the shoulders and the portion of fabric which is cut to sit straight across the bust meet at perpendicular, 90 degree angles, creating the illusion of a square.
Just like the v-neck, the square neckline necessitates the inclusion of a sleeve or strap in order to create the shape. Square necklines are not particularly popular in wedding dresses at present as they are often considered old-fashioned.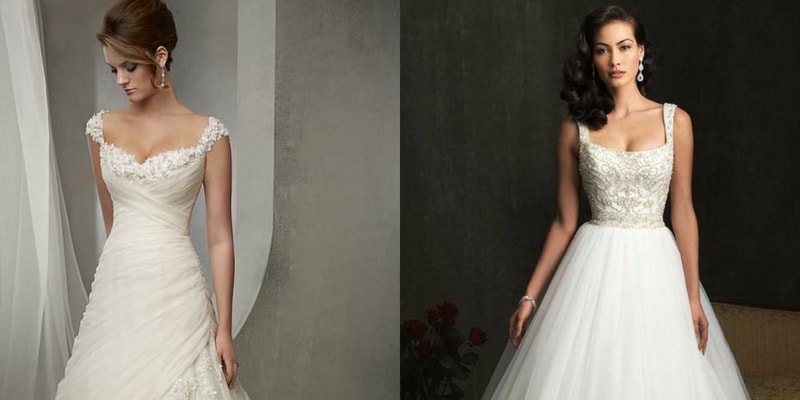 Asymmetric or One Shoulder Design
Asymmetrical necklines are perfect for the offbeat bride who likes to have fun!
This quirky neckline could be a one-shoulder arrangement with a single strap or sleeve, or could be something far more avant garde! Asymmetrical necklines could, in fact, have two sleeves or straps, or be completely sleeve- and strapless and still feature an asymmetrical neckline!
If you have your heart set on an asymmetrical design, you may need to look into high fashion designers and haute couture, or have your dress custom made as asymmetry is not typical in wedding gown necklines, with the exception of certain one shoulder options.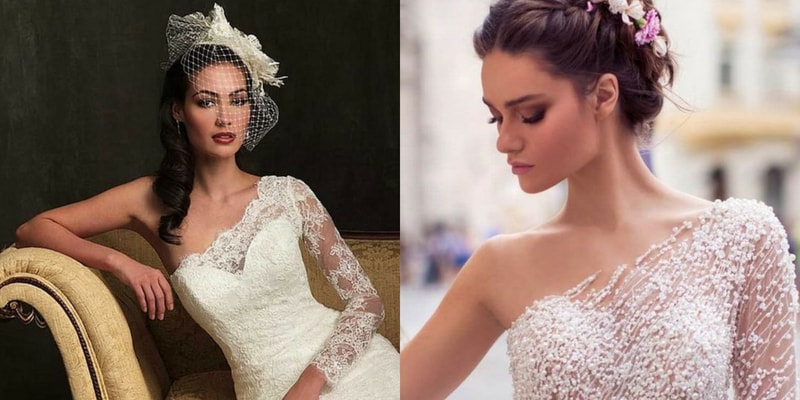 High Neckline
The turtleneck of the wedding dress world, a high neckline is regal to the extreme.
Gorgeous, elegant, refined, high necklines have and always will be in fashion among royalty! Whether you're looking for an illusion neckline, or something more conservative, high necklines are incredibly popular among both those planning conservative church weddings and the fashion forward!
If you want to look like a queen on your wedding day; perhaps a high neckline is for you!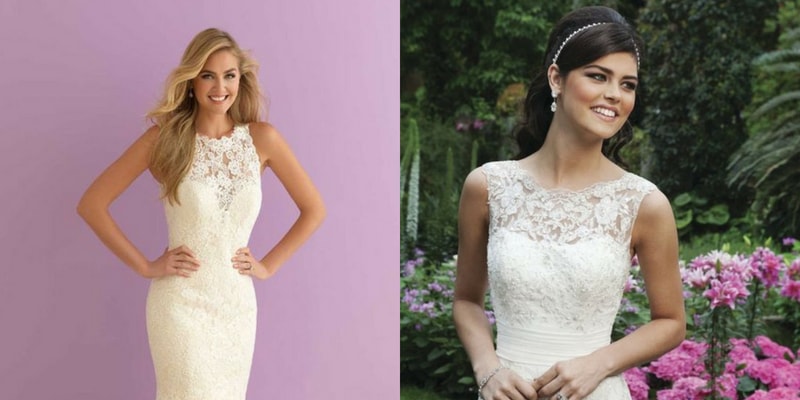 Off The Shoulder Dress
A very sultry and sensuous look, an off the shoulder wedding gown features "straps" or sleeves that do not actually go over the shoulder, but rather drape from the neckline covering the arms from below the shoulder and leaving the shoulders exposed.
Demure, yet sexy, the off the shoulder neckline is loved by brides the world over! It is important to note that raising your hands above your head can be challenging if not impossible in an off the shoulder gown, so if dancing the night away unimpeded is of import to you, you might want to opt for removable straps or sleeves.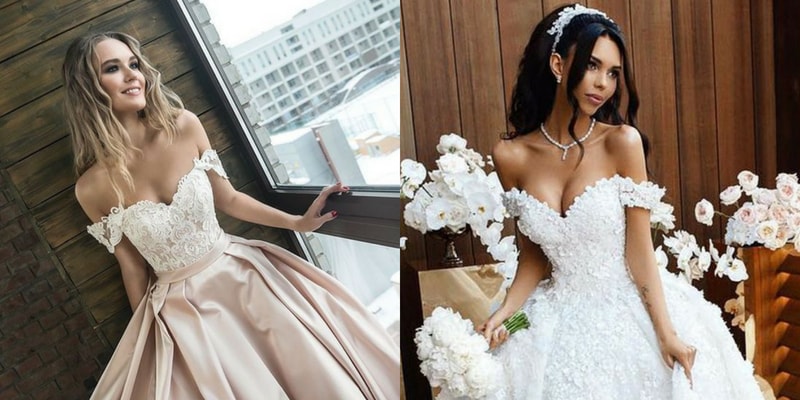 Scoop Neckline
A scoop neckline is essentially a rounder square neckline in which the straps and the fabric across the bust curve to meet one another as opposed to meeting at right angles. The scoop neckline by definition then also features straps and/or sleeves of some description.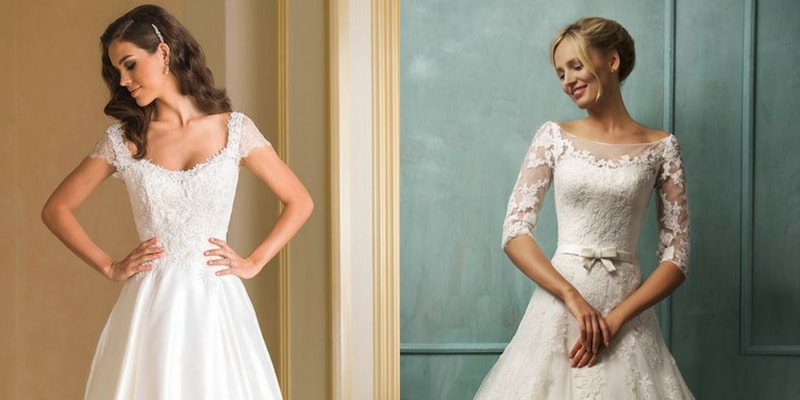 The Queen Anne
If the v-neck is an inverted triangle, then the queen anne neckline is a triangle. Featuring the same straight across the bust cut as the square neckline, the queen anne neckline uses cap sleeves or "triangular" sleeves worn atop the shoulder to create the illusion of an inverted triangular neckline.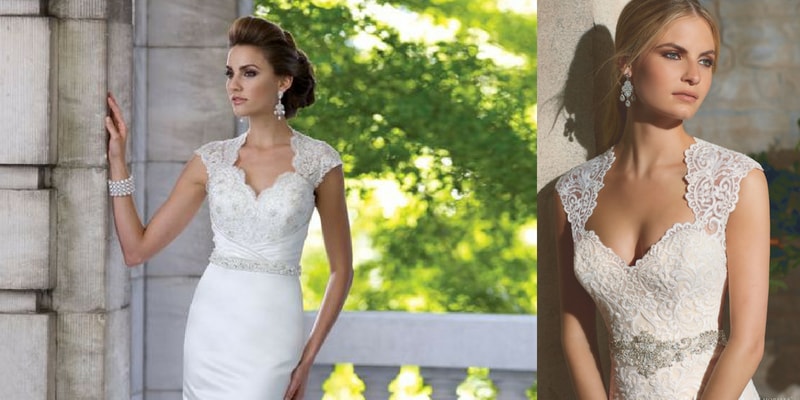 A Portrait Neckline
The portrait neckline is very similar to the bateau and the off-the-shoulder necklines. The portrait neckline basically cut a little deeper and a little wider than a bateau neckline, but not so wide or deep as to become off the shoulder or scoop neck. The portrait neckline will be cut to sit lower below the clavicle than a bateau.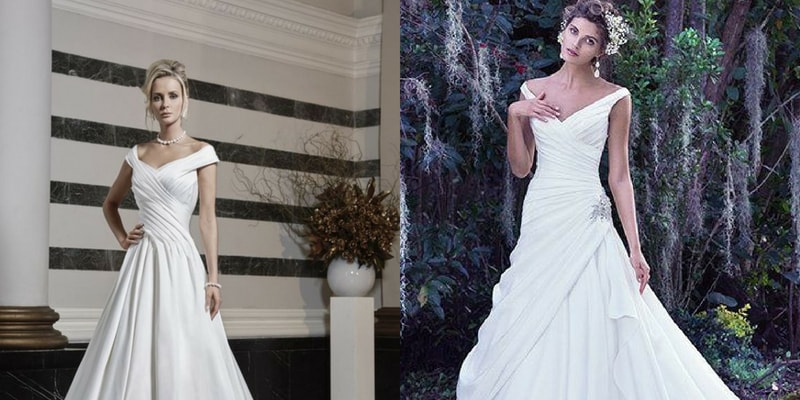 Bateau Neckline
The bateau neckline is similar to the portrait neckline, but is usually not cut as deeply or as wide. This wide neckline runs horizontally, front and back, almost to the shoulder points (but not quite as far as the portrait neckline) across the collarbone.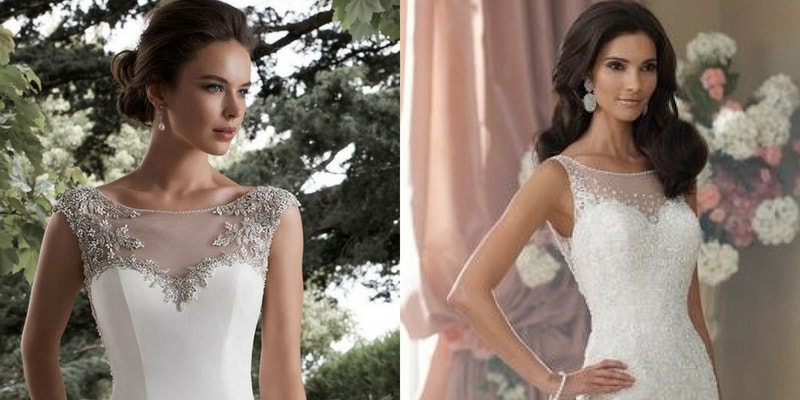 Straight Neckline
The straight across neckline is used in both the queen anne and square necklines in combination with sleeves or straps. A sleeve- and/or strapless variant of this cut would be called the straight across neckline. This flattering neckline can be very high fashion!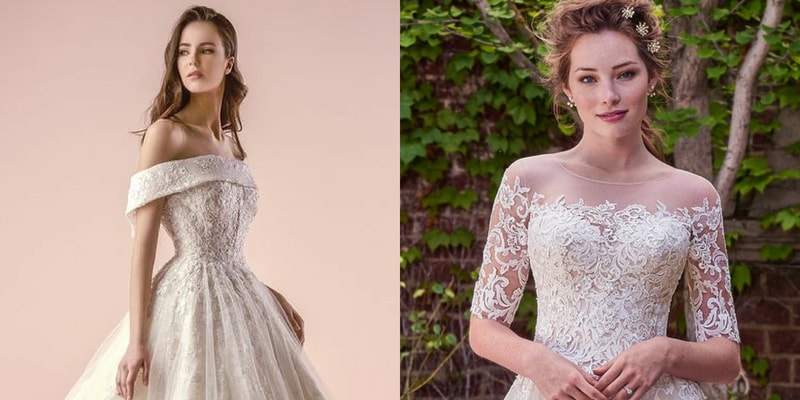 Wedding Dress Waistlines
Basque Waistline
The basque waistline is a kind of dropped waistline which sees the fitted bodice extend below the natural waistline on all sides, and even dip slightly further in the front to create a v-shape. This waistline is popular in A-line, modified A-line and ball gowns.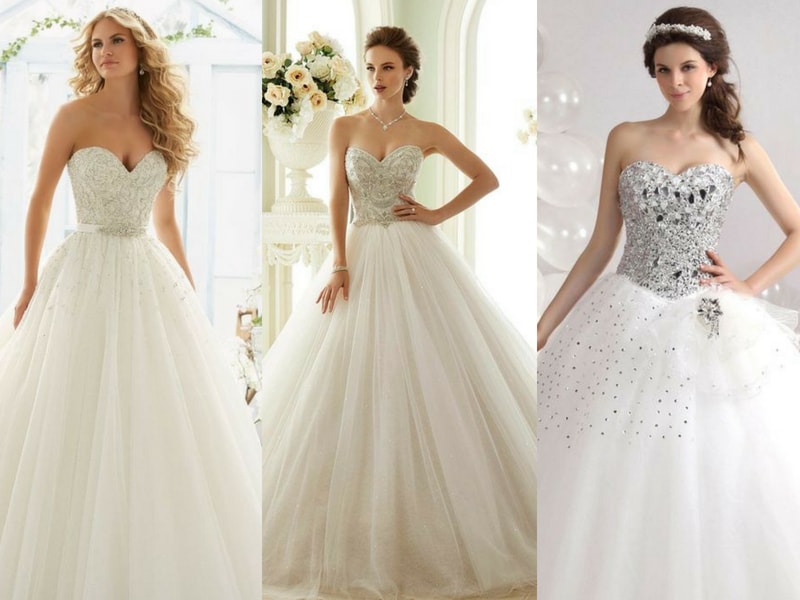 Dropped Waistline
Gowns with a dropped waist see dresses feature a fitted bodice that extends below the natural waistline all the way around, without the characteristic v-shape of the basque waistline.
A dropped waistline still features a clear horizontal break between fitted bodice and the skirt portion of the gown. A dropped waist tends to feature a bodice fitted to the hips as opposed to the natural waist. Note: a trumpet or mermaid silhouette are not to be confused with a dropped waist.
All trumpets and mermaids are technically extreme dropped waists, but not all dropped waist gowns are trumpets or mermaids.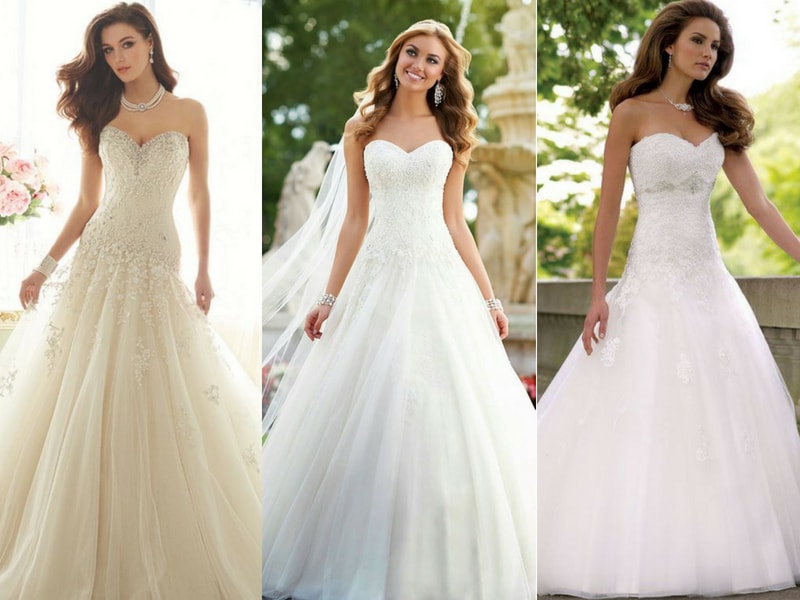 Empire Waistline
The empire waistline, after the silhouette of the same name, creates the illusion of a high waist by creating a shortened fitted bodice that ends just below the bust. The empire waistline is a popular waistline for maternity gowns, both bridal and otherwise as it can accommodate a growing baby bump.
Natural Waistline
In an hourglass figure, the natural waist is the narrowest point between the underbust and the hips (think of the natural waist as the skinny part of the hourglass through which the sand falls). Dresses in which the tight bodice is meant to terminate and give way to the skirt at the natural waist may have to have the waist dropped or raised to meet and match your natural waist for an ideal fit.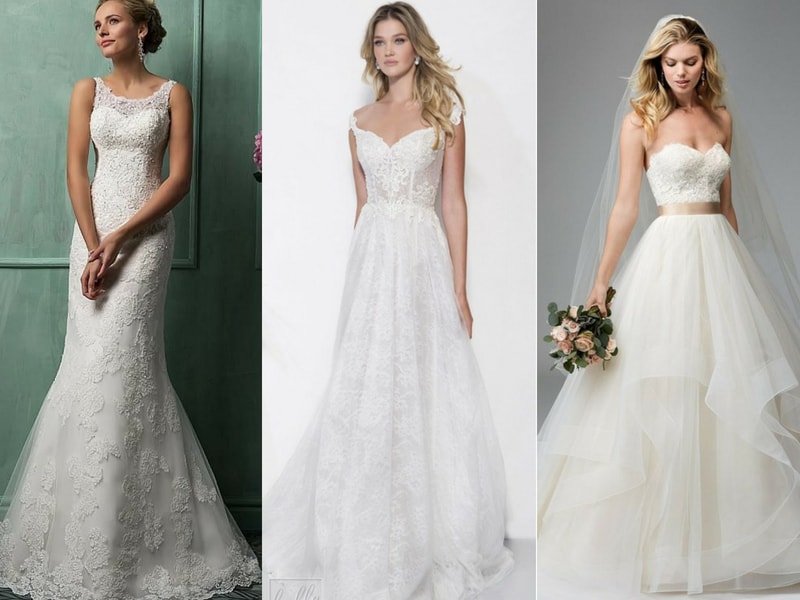 Wedding Dress Sleeves
Strapless
The tried and trusted 21st century staple, the strapless wedding gown usually features a sweetheart neckline but could also feature a straight across or asymmetrical neckline. For a more covered up look for a church ceremony, or in winter, strapless dresses can be paired with bolero jackets, fur shrugs, capes, and shawls to create a unique look to suit you!
Spaghetti
Spaghetti straps can be added to any strapless dress, and feature strongly in the 2010s in plunging v-neck backless gowns and haute couture. Spaghetti straps can be single or multiple, jewelled, fabric, embellished, the list is endless.
These straps are usually seen on sheath and other slim-fitting silhouettes, and on dresses made of light, floaty and ethereal fabrics. They do not, for example, compliment ball gowns of heavy fabrics.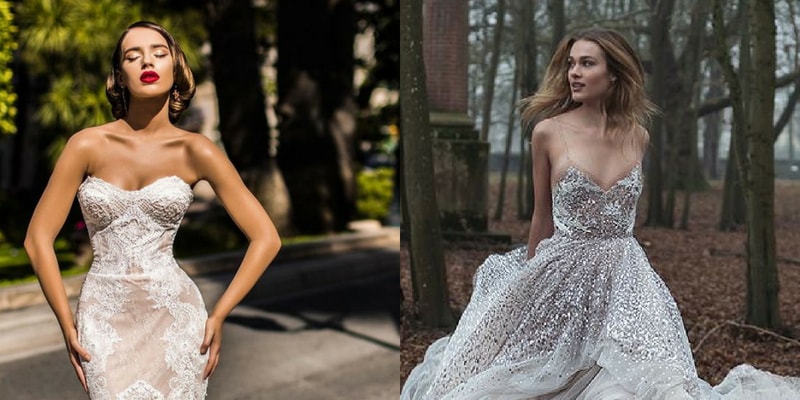 Straps
Spaghetti straps' sister, these are thicker straps as may typically be seen on square neckline wedding gowns, and gowns with scoop necklines. These straps tend to suit heavier fabrics and more dramatic and voluminous designs better than spaghetti straps do, but they work equally well with sheaths and other slim-fitting silhouettes depending on the design.
Sleeveless
Sleeveless may refer to any of the above; from completely strapless through to thick straps, off the shoulder necklines and more.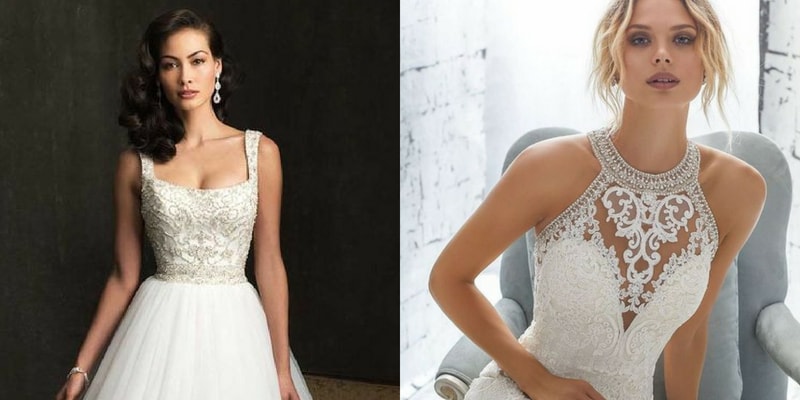 Cap sleeves
A cap sleeve is defined as a sleeve which extends only a short distance from the shoulder and tapers to nothing under the arm.
This gives it the appearance of a triangular strap with its broadest point over the shoulder, narrowing toward the point at which it is affixed to the neckline of the dress. Cap sleeves created to cover the bride into the neck and onto the tops of her shoulders but not down onto the upper arm are the kind of cap sleeves featured in the Queen Anne neckline.
Cap sleeves can thus be worn off or on the shoulder, and styles will vary accordingly.
Short/Long sleeves
Wedding gowns with sleeves have become increasingly popular ever since Kate Middleton wed Prince William in a gorgeous long-sleeved Alexander McQueen creation in April 2011.
Whether long-sleeved or three-quarter sleeved, wedding gowns with sleeves are popular for winter weddings, and among more conservative brides. Gowns with sleeves give a designer that much more room and fabric to play with, so sleeved gowns are often extravagant, detailed, and painterly.
It is also possible for your seamstress to add sleeves to a sleeveless dress should you so prefer.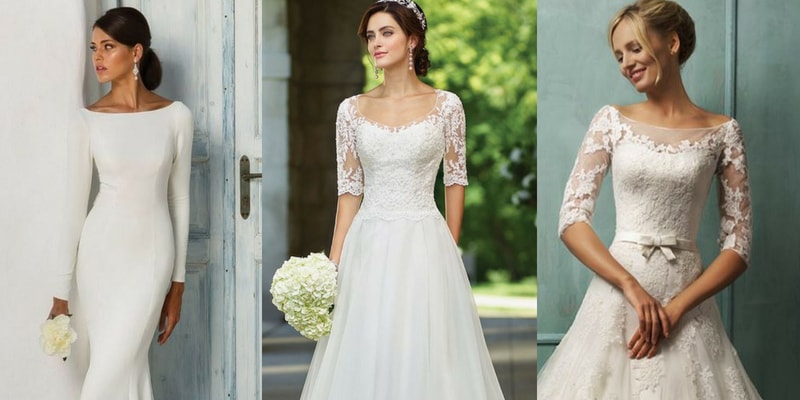 Body Types
Busty
If you're a particularly busty woman, you probably already know that high necklines and too much fabric across the chest serve only to highlight and make your bosom appear even bigger than it is.
That does not, however, mean you need to be sporting a world of cleavage either.
While busty brides would do well to stay away from straight across necklines or high necklines (unless, of course, your intention is to highlight your bust), a moderate scoop or sweetheart neckline can cover enough that you're comfortable, but also not so much that you feel like you're wearing your great-great-grandmother's dress or that your bust is emphasized even further by an abundance of fabric.
If "sexy" is a keyword for you, you could try a plunging v-neck or an illusion neckline with plunging mesh inserts – this will allow for you to highlight your decolletage without appearing top-heavy.
Summary: As a general rule, Scoop or Sweetheart necklines are the most flattering on busty brides.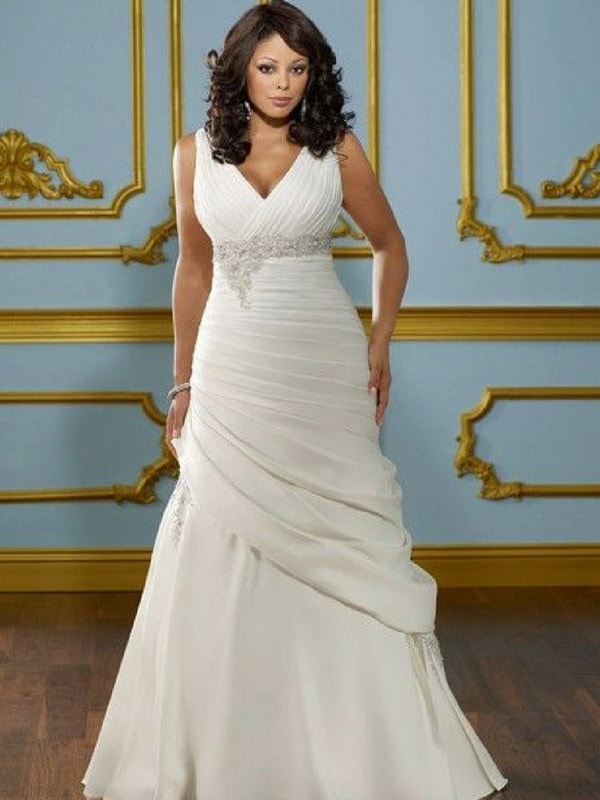 Pear Shaped
Pear shaped women have wider hips than they do shoulders and a larger derriere than they do bosom.
As such, the body can appear to be "bottom-heavy" if you're not dressing for your shape. Pear shaped brides should start by exploring A-Lines, Ball gowns and Empire silhouettes.
These silhouettes cater to the pear shaped woman by highlighting the femininity of her curves and skimming over her widest points; her hips and thighs.
A very flattering fit on most body types, the A-line is perhaps the most popular silhouette amongst pear shaped brides.
Summary: Pear shaped brides can start their wedding dress shopping journey by trying on A-lines, ball gowns and empire silhouettes.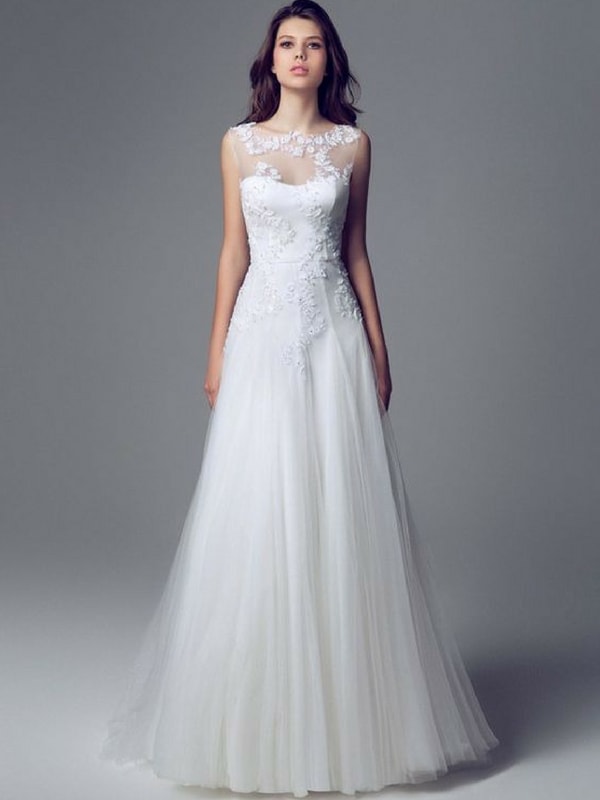 Apple Shaped
The apple shaped bride's widest point on her body is somewhere above the hips, and she is usually full busted, wide in the waist, and broad shouldered with slim arms and legs.
The apple shaped bride's challenge is to find a dress which flatters her figure by creating a defined and distinct waistline without dwarfing or hiding her curves and drawing attention away from her slim arms and legs.
A-lines are always popular as they create the illusion of a slim natural waist, as are ball gowns as they exaggerate the slimness of the waist by increasing the volume of the skirt portion of the dress.
Empire silhouettes and waistlines can be flattering, provided they are fitted correctly and do not hang from the bust without form, and v-necklines are perfect for highlighting a shapely decolletage.
Apple shaped brides would do well to choose strapless wedding gowns, or gowns with thin strap details that draw attention to and flatter their slim arms and shapely shoulders.
Summary: Apple shaped brides tend to favour A-lines, ball gowns, and structured empire silhouettes, while strapless dresses and v- or plunging necklines with thin straps are the order of the day to flatter a gorgeous apple shape.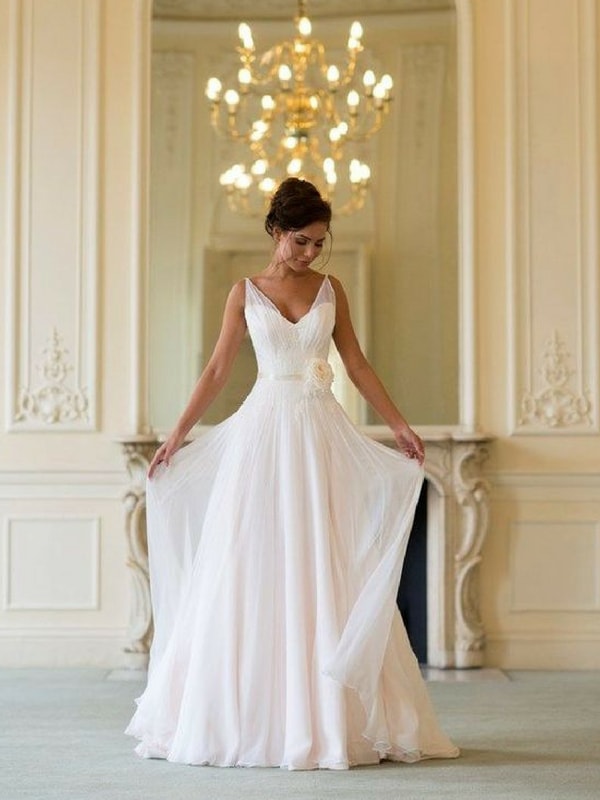 Inverted Triangle
The inverted triangle bride's widest point on her body is her broad shoulders.
She also has narrow hips, slim thighs, and a generally athletic figure. If you wear a larger top than you do bottoms and it is not to accommodate a large bust, you may well be an inverted triangle!
If you are an inverted triangle with a large bust, you may take the advice given apple shaped brides into account as well, whereas, if you are an inverted triangle with strong hip bones and structure in the legs, you can take the advice offered straight lined brides into account as well.
That being said, inverted triangle brides looking stunning in ball gowns, tea length gowns, and trumpet or mermaid silhouettes. This is because all three silhouettes have volume where the inverted triangle bride lacks shape, thus balancing your broad shoulders and narrow hips out visually.
Avoid halter styles, or anything off the shoulder or broad-shouldered like the bardeau or off-the-shoulder necklines as these will only serve to make your shoulders look even broader.
Summary: Go for a gown with volume on the bottom, whether dramatic and embellished or sleek and refined. A little volume on the bottom helps balance out an inverted triangle body shape. Avoid necklines that draw unwanted attention to the shoulders.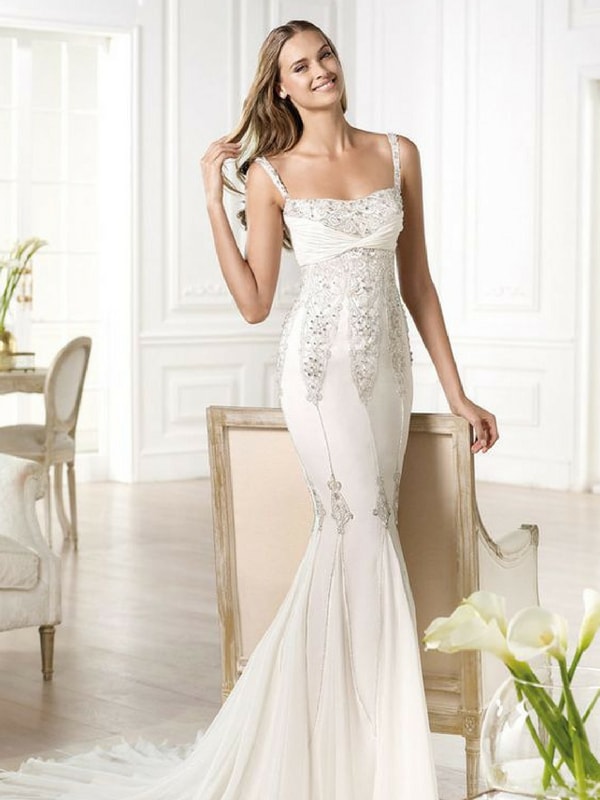 Tall & Thin
Tall & thin brides really have the pick of the litter when it comes to wedding gowns (and, let's face it, clothing in general).
Your model-esque proportions mean you can pull of whatever your heart desires – that being said, there are some dresses that really make a tall and thin bride shine!
You are one of so few brides who can pull it off, so why not try on some sheath bridal gowns?
Sheaths highlight your figure by skimming your frame in a very flattering way, and they make you look even taller, very statuesque and graceful! If you're after a little more drama, a trumpet or mermaid silhouette can also really emphasize your sleek physique without sacrificing on that little something extra on the bottom!
If none of the above tickle your fancy, there's always the tried and trusted ball gown, turning tall and thin brides into cake topper perfect princesses for generations. You have your pick of neck and waistlines and you can choose to highlight or downplay whichever you consider to be your favourite and/or least favourite aspects of your body.
Summary: The tall and thin bride is spoilt for choice. Sheath gowns are incredibly flattering and few brides can pull them off like you can; but you could also opt for a mermaid or trumpet silhouette, or go with the tried and trusted ball gown.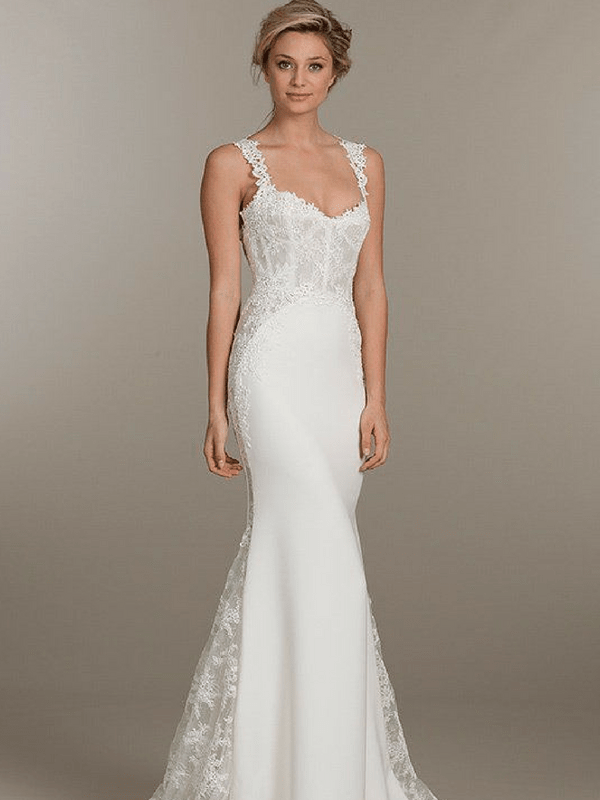 Straight lined
If your body goes straight up and down, but you wouldn't necessarily call yourself tall or "model thin", then this section is all about you!
The good news is, you're spoilt for choice! The bad news is, we can't really help you narrow down what will flatter your figure, as you can pull off almost anything you try on!
Whether you're dreaming of a ball gown or a sheath, empire, A-line or even tea length gown, odds are you can pull it off! Just like the tall and thin bride, you can alter practically any style to play up your favourite aspects of your body, or to hide what you consider imperfections.
The only silhouette we recommend you avoid would be the trumpet or mermaid silhouette, as this can make straight lined brides appear shapeless if the natural waist is not well defined. That being said, slapping a belt on the trumpet bridal gown can take a straight lined bride's dress from mediocre to mesmerizing in seconds!
It's all about knowing your body and deciding what's important to you!
Summary: You can wear almost any silhouette as long as the waistlines and necklines are flattering on your individual straight lined body. You're one of few body types that can really rock a sheath though, so if you've ever considered it, go for it!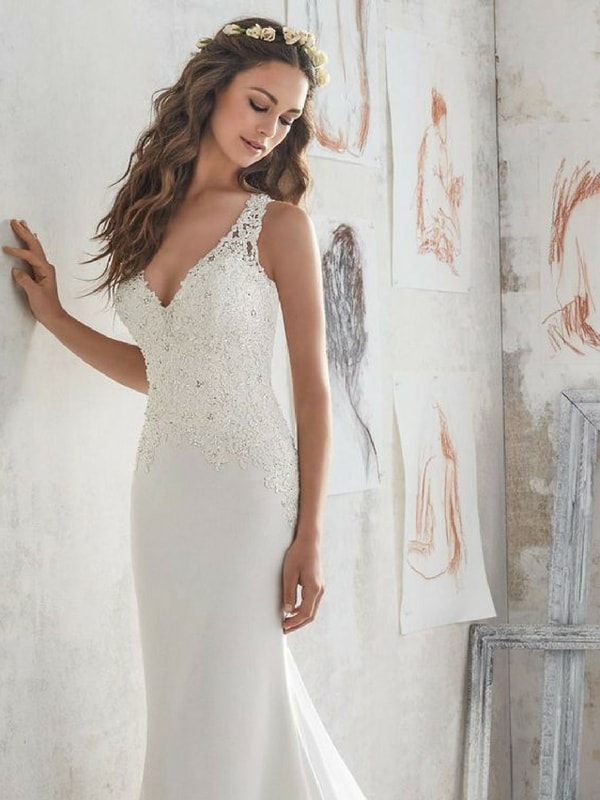 Petite
Petite brides who do not wish to appear to appear short or even shorter than they are should avoid ball gowns which can drown the petite figure.
You want to wear the wedding gown, you don't want the wedding gown to wear you!
Styles that can make the petite bride appear taller include Empire, Sheath and Trumpet silhouettes, while A-lines flatter your narrow natural waist and make you seem elven, pixie-esque and very ethereal and whimsical.
Petite brides with big busts can take the same advice about necklines as offered busty brides, whereas small chested petite brides can explore options with off the shoulder sleeves and high necklines.
Sweetheart necklines flatter both small and big busts, so petite brides can't go wrong with a sweetheart neckline either way.
Summary: Silhouettes to favour include trumpet, sheath, A-line and empire. Avoid ball gowns as they dwarf already petite brides.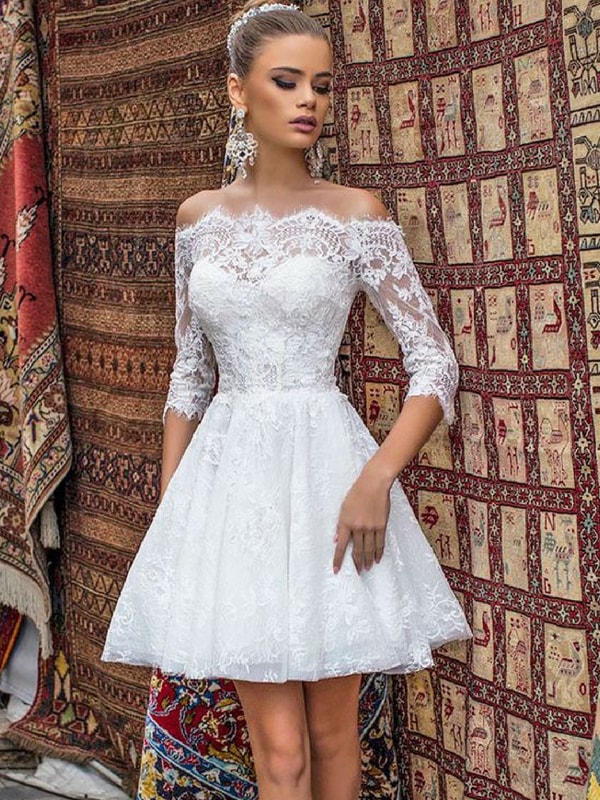 Small chested
If you have a small bust, you have the opportunity to really play around and take some risks with your neckline that big busted brides just can't do.
You can explore off the shoulder necklines, high necklines, and even plunging necklines without risking a fashion faux pas or a bit of unintended over-exposure!
Trumpet and mermaid silhouettes with sweetheart necklines really flatter small chested brides as they emphasize and flatter smaller upper bodies while still celebrating a little drama and panache at the bottom.
Small brides obviously also need to take the rest of their body shape into account when choosing their bridal gowns, as a small chested bride could be a pear, an inverted triangle, tall and thin, etc. and these designations will also influence which silhouettes will best suit your body type.
Summary: You have a world of options when it comes to flattering necklines. The most flattering silhouette for a small chested bride will also depend on whether she is a small chested inverted triangle, a small chested pear, or a small chested tall and thin bride etc.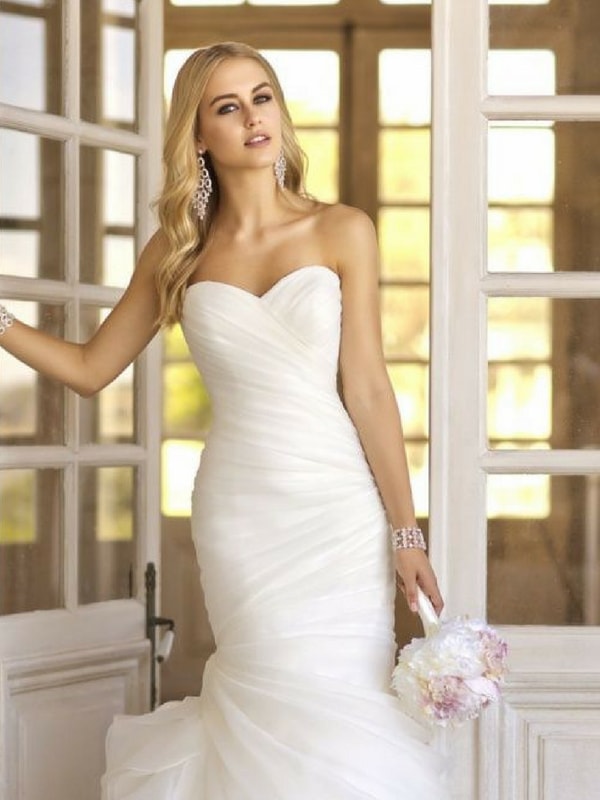 Hourglass
If you're an hourglass bride you're in good company!
Dita von Teese, Jennifer Lopez, Sofia Vergara, and even Beyonce are known for their luscious hourglass curves! Take a page out of their books and rock a mermaid, trumpet, A-line, sheath, or ball gown silhouette like it's nobody's business!
You have your pick of necklines depending on which portions of your body you'd like to emphasize or downplay, and yours is perhaps one of the most versatile body shapes as you are able to pull off both straight up and down cuts like a sheath, and something with all the volume of a full-on ball gown!
As long as you're cinching in at the natural waist, your slimmest point, you're guaranteed to be golden on your wedding day!
Summary: The hourglass bride has tons of celebrities to turn to for guidance! Study your idols' red carpet looks and you can't go wrong! Whether you choose a ball gown, sheath, or mermaid gown for your wedding day, we know you'll look stunning!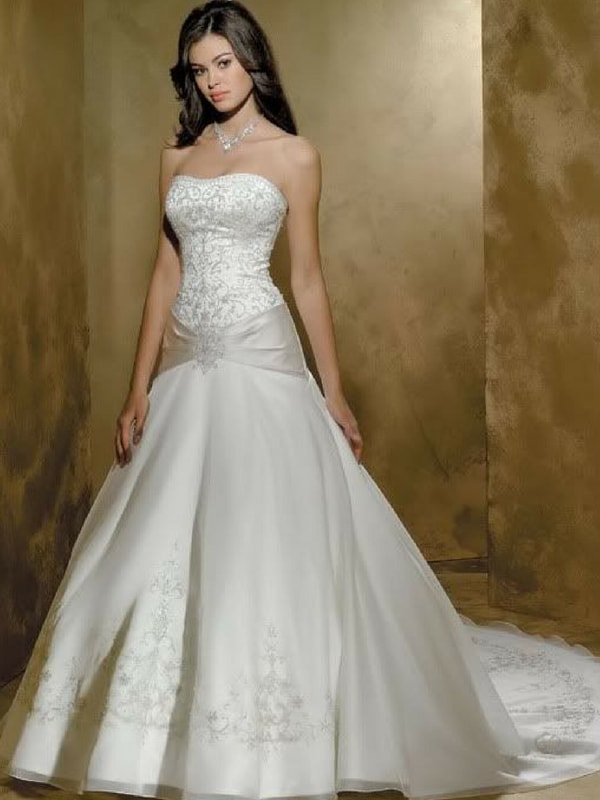 2018/19 Wedding Dress Trends
Working in the industry means we see trends coming, and we've been seeing a lot of low cut backs again this year which is super exciting as this style is just so romantic and dreamy!
Speaking of dreamy, flowy, ethereal fabrics and styles have also been big so far this year and "whimsy" is becoming a keyword for bridal gowns in 2018!
Lace in 2018 almost borders more on embroidery and we can't wait to see more of this trend in the months and weddings to come! Over the past few years we've also seen a steady move by brides toward off-white and champagne tones for their gowns, if not an outright colour like periwinkle or blush.
Brides are definitely moving away from the stark white dress!

Local Designers we love in 2018: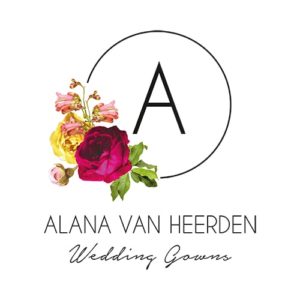 A wedding dress designer based in Cape Town, Alana is all about old-school charm with a new-school flair!
Her design-house specializes in custom-made wedding gowns and each and every dress is one-of-a-kind. Each custom-made gown is inspired by the bride who'll wear it and her vision for her wedding day and, as such, no off-the-rack dresses or sample gowns are produced!
Each Alana van Heerden gown is a once-off original, perfect for the bride to whom individuality is key!
For more information, or to schedule a free consultation, pop over to Alana's website.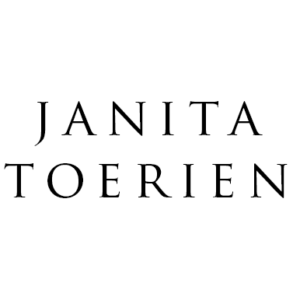 Janita Toerien is a one-stop-shop for every kind of offbeat bride.
From custom gowns to couture creations, and even off-the-rack separates that you can mix-and-match to your heart's content, this Cape Town-based designer is all about alternative solutions, quirky style and unique bridal gowns.
For more information on booking your consultation, or to see stockists of the Leilah James Ready-to-Wear separates, visit Janita's website.
International Designers we love in 2018: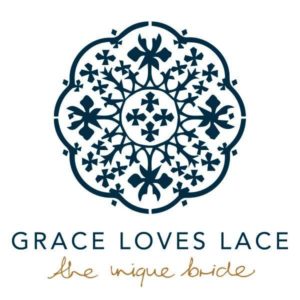 Grace Loves Lace is an Australian company with showrooms all over the world!
While there is no showroom in South Africa yet, you can order your gown online if you dare, as they deliver worldwide!
Their online stylists and crew will work tirelessly with you to ensure that the dream dress you order is just as stunning as you imagined when it arrives! They do not custom-make or alter their designs, so what you see is what you get, and they can work with brides with longer and shorter time-frames so it is best to contact them directly to find out whether or not they would be able to accommodate you.
If you want to know more about ordering your Grace Loves Lace wedding dress, visit the Grace Loves Lace website! With the ability to use your own measurements to select a size, and live-chat or Skype with their expert stylists, they take the risk out of ordering your wedding dress online, meaning you can have your dream Grace Loves Lace wedding dress without the fear that what arrives won't fit or flatter you!
Conclusion
Whether you're of the opinion that local is lekker, or you want to explore international offerings, 2018s wedding gowns are timeless and beautiful, and we just know you'll look stunning on your big day!
Whether you're concerned about dressing for your body-type, or worried that your favourite silhouette isn't flattering on you, remember, every bride is beautiful!
The glow of a dream come true suits everybody!
---
Resources used to create this guide:
The Ultimate Guide To Wedding Dress Styles, by Hitched.co.uk
37 Most Popular Wedding Dress Styles, by Womangettingmarried.com
Wedding Dress Silhouettes, by Theknot.com
Wedding Dress Silhouettes, by Bridalguide.com
Wedding Dress 101, by Preownedweddingdresses.com
How to choose the perfect wedding dress for your body type, by Modernwedding.com.au
Wedding dresses how to choose perfect dress for your body type, by Realsimple.com
Ultimate Guide to Wedding Dresses, by Topweddingsites.com
The Best Wedding Dress For Your Body Type, by Theknot.com
Finding the perfect dress for your body shape, by Enzoani.com