10 Jul

Wedding Flower Ideas For An Unforgettable Day

We think you will agree when we say it's quite hard to find wedding flower ideas that will be perfect for your big day.

Don't worry, this article will clearly identify what you need to look for and where every piece fits into the puzzle.

One of the biggest overlooked expenses on your big day is often your wedding flowers.

From bouquets and centerpieces to rose petals for your flower girl to sprinkle down the aisle, the cost of flowers adds up quickly – and you should mentally prepare yourself for the reality of doubling or even tripling your budget if you have your heart set on imported flowers or flowers that will be out of season come your wedding date.

Your wedding florals can make or break the atmosphere of this greatest day of your life, so budgeting adequately for your flowers and paying special attention to the arrangements to ensure that they reflect your couple-style and the style you've decided on for the wedding is of the utmost importance.

If you don't know your daisies from your dahlias or your bouquets from your boutonnieres, don't worry, we're here to tell you absolutely all you need to know about wedding flowers and floral trends in 2018.
Wedding Flower Ideas For Every Aspect?
Personal flowers
Personal flowers include every floral arrangement either worn, carried or handled by an individual involved in the wedding.
For example, members of the wedding party such as bridesmaids, groomsmen, flower girls, parents of the bride and groom, the bride, the groom, the ushers etc.
Personal flowers are typically conceived of as either bouquets or boutonnieres, but there's actually a whole lot more to it!
Bouquet
Bouquets are the flowers the bride and bridesmaids carry down the aisle.
Flower girls or younger bridesmaids may have posies or petals to scatter as opposed to carrying bouquets.
The bridesmaids' bouquets are typically smaller, less elaborate versions/arrangements of the same flowers that make up the bride's bouquet which is typically more elaborate.
So, for a typical wedding, in order to calculate the number of bouquets that need ordering, you would typically order one bride's bouquet, and one per bridesmaid.
As the bride you could also elect to order an extra bouquet for a bouquet toss if you are reluctant to part with your own!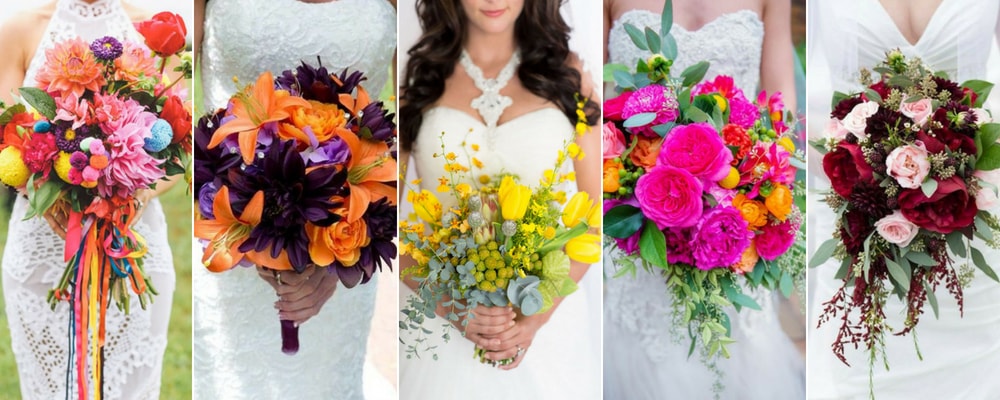 Boutonnieres
Boutonnieres are the floral lapel-pins worn by male members of the bridal party including the groom, the father of the groom, the father of the bride, the groomsmen, the best man, the ushers, the ringbearer, etc.
These are typically single flowers with sprigs of greenery, or may be made up of floral and non-floral elements such as feathers or porcupine quills, for example.
The mothers of the bride and groom may also elect to wear boutonnieres at the wedding, or they may opt for corsages.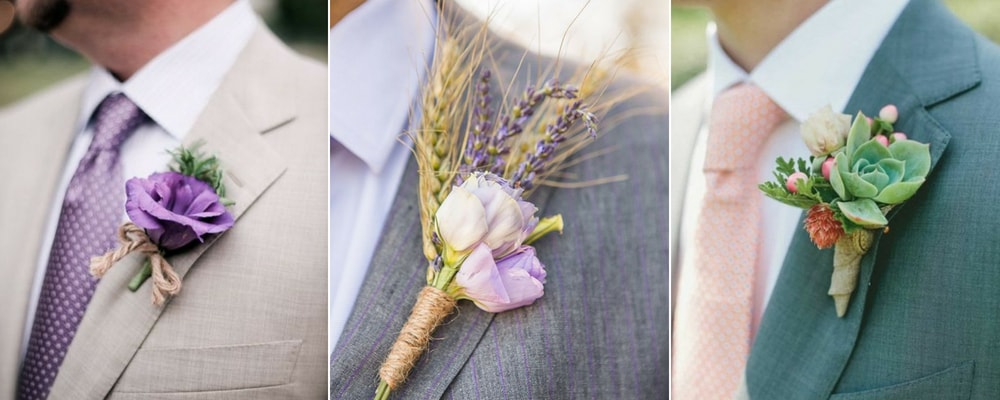 Corsages
Corsages are floral arrangements attached to an elasticated loop, and these miniature arrangements are typically worn around a woman's wrist like a floral bracelet.
Certain corsages may, however, come equipped with both the typical elasticated loop for the wrist and a pin to allow one to wear the corsage at the breast like a boutonniere.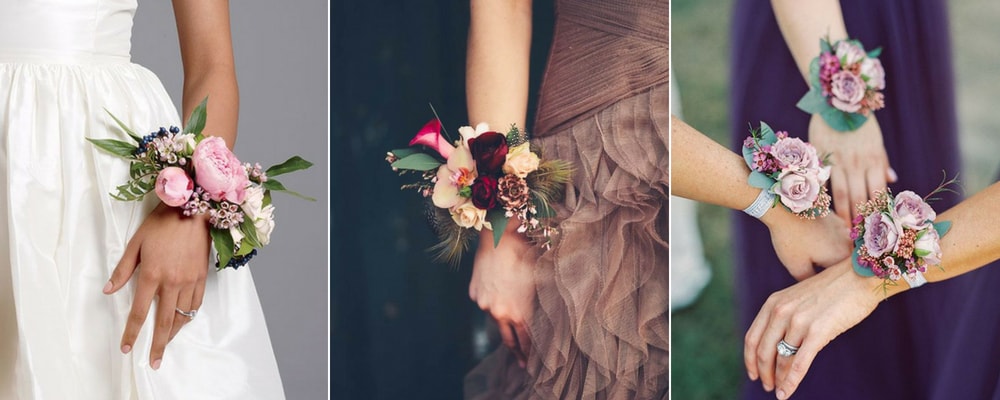 Flower Petals/Confetti
The rose or other flower petals meant to be scattered by your flower girl as she precedes your entrance and makes her way down the aisle will count as personal flowers.
As do the flower petals or other floral confetti your guests will toss to celebrate the newly weds during your recessional.
When selecting florals for either of these functions, remember that some flower petals will stain light fabrics, especially if they get wet.
So if you are planning a winter wedding and/or wearing the traditional white, you should make sure your selected florals won't stain your dress.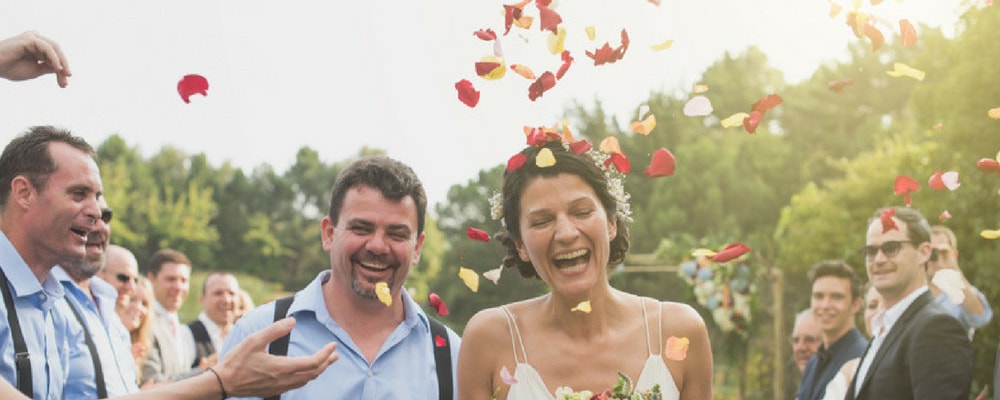 Flower Crowns
Boho brides the world over are forgoing traditional veils in favour of rocking flower crowns. Some are even combining the two for a look that is both updated and true to tradition.
Flower crowns would also constitute personal flowers whether they are to be worn by bridesmaids, the bride, or flower girls.
If you plan on purchasing flower crowns in addition to bouquets, you will need to increase your flower budget accordingly.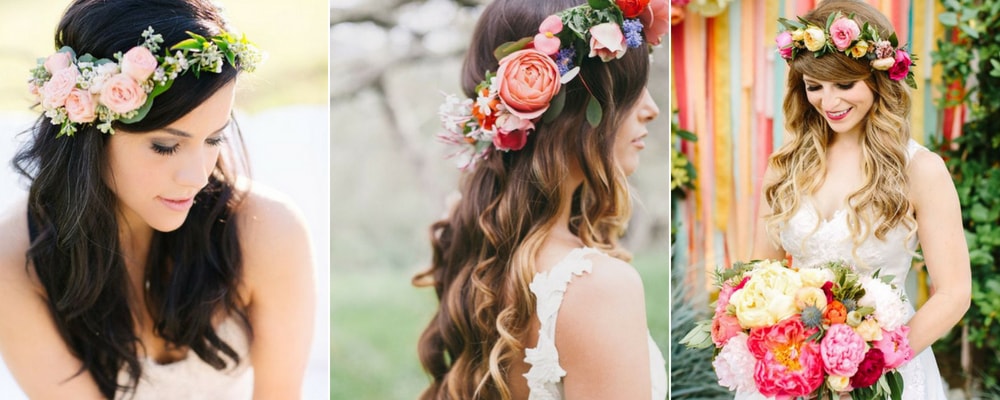 Ceremony Flowers
Ceremony flowers refer to any and all the flowers and floral arrangements you will see in the ceremony venue that are not being worn or otherwise carried by a member of the wedding party.
This will include but is not necessarily limited to flowers for the entryway, to line the aisle, to decorate the altar or pulpit etc.
Your floral needs for your ceremony venue will depend on the kind of canvas you're working with and you and your floral designer's vision for the space and your big day.
Your ceremony flowers could be as elaborate as installing flower chandeliers or creating a custom floral chuppah or backdrop against which you and your love will say your 'I dos, or ceremony flowers can be as sparse as a single wreath on the pulpit or a single long-stemmed rose in a vial at the end of each pew.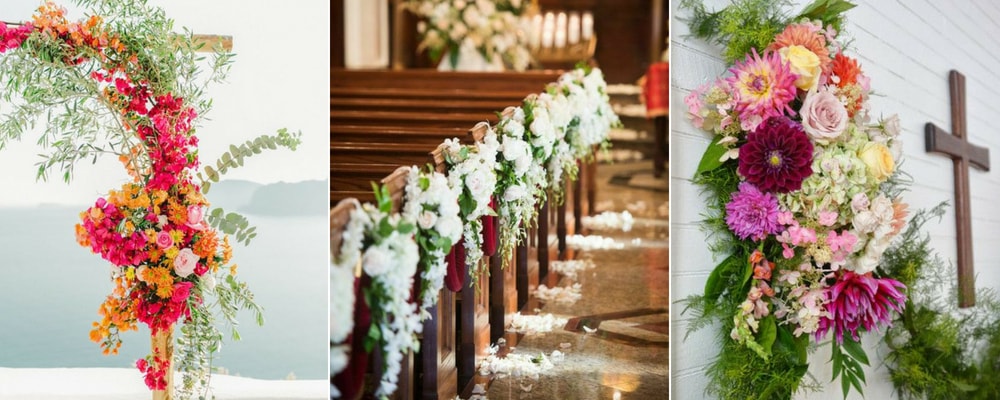 Also read – Wedding Dress Styles: The Ultimate Guide 2018
Reception Flowers
Reception flowers are those brides tend to think of first, and include everything from live florals you'd like to adorn your wedding cake to that holy grail, the centrepieces.
Floral arrangements you might consider for your reception venue may include arrangements for:
The Bar

The Tables in the Cocktail Area

The Lounge Area

The Smoking Area

The Cake

The Cake Table

The Gifts Table

The Dance Floor/DJ Booth

The Powder-Room

The Getaway Car

The Buffet Station

The Escort-Card Table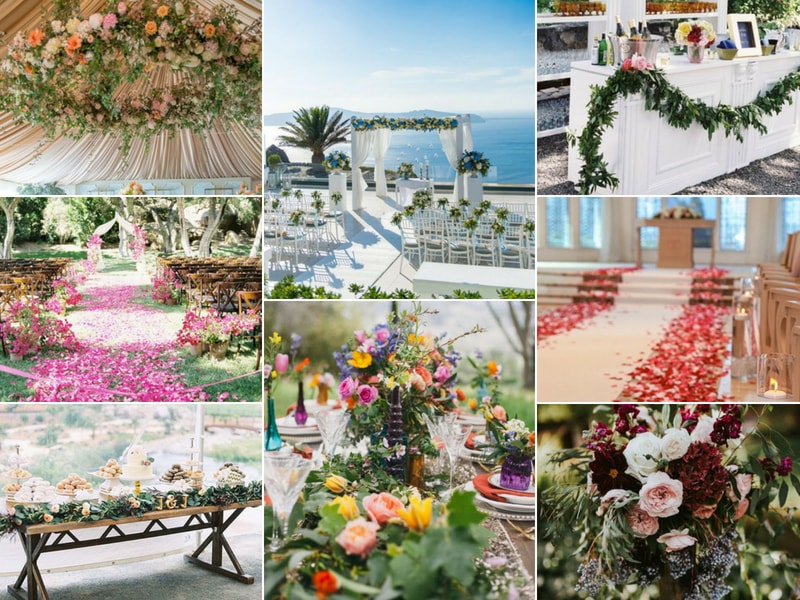 The nature of your reception arrangements will obviously ultimately depend on your wedding venue.
You may opt to forego reception florals all in all in favour of flowerless centerpieces and decorations, or you may choose to go all out with floral chandelier installations, other hanging arrangements, floral backdrops for photo opportunities, and/or more!
Things to Keep in Mind – Factors That Will Impact Your Floral Decisions
Budget
The fact of the matter is that some flowers are more expensive than others, and flower prices will fluctuate throughout the year depending on whether or not the flowers are in season or would need to be greenhouse-grown, or, most expensively, imported.
The cost of your flowers will then be impacted primarily by availability, and secondly by variety.
Therefore, the most important things to keep in mind when you're planning your wedding flower arrangements and budget will be:
– The Season
– The Variety of Flowers
– Your Wedding Colour Scheme
The Season
Keeping the season in mind will be crucial to keeping your budget down if you can stick to seasonal flowers and avoid the surcharges often placed on greenhouse-grown flowers and imported, out-of-season flowers.
Flowers for every season
:
Summer: Black-Eyed Susans, Yarrow, Coreopsis, Dahlia, Marigolds, Beardtongue, Oxalis, a wide variety of Lilies, Peonies, Daffodils, Lavender, Sunflowers, Shrub Roses, Hibiscus, Cornflower, Cosmos, Gerbera Daisies, Hydrangea, Tulips, Ranunculus, Gardenias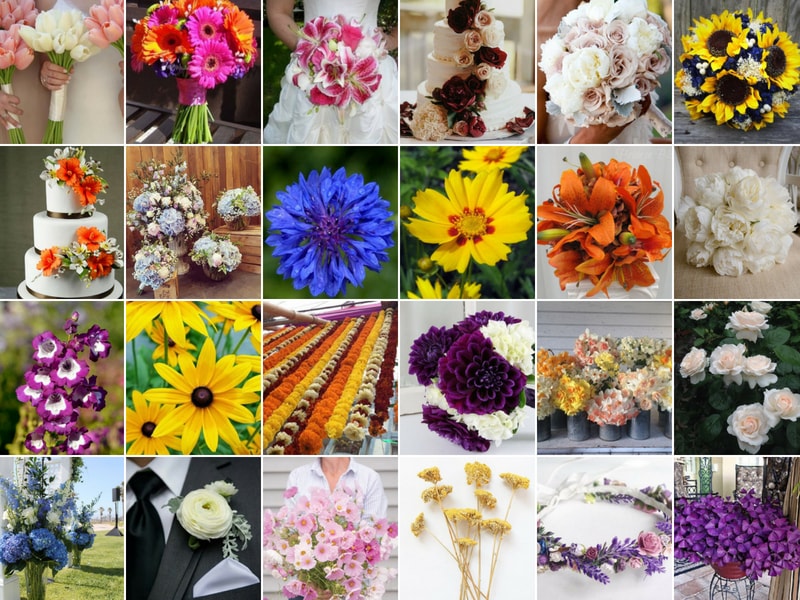 Autumn: Crocus, Begonia, Dahlia, Nerine, Sternbergia, Cyclamen Hederifolium, Asiatic Lily, Calla Lily, Chrysanthemum, Roses, Heather, Heliopsis, Pansy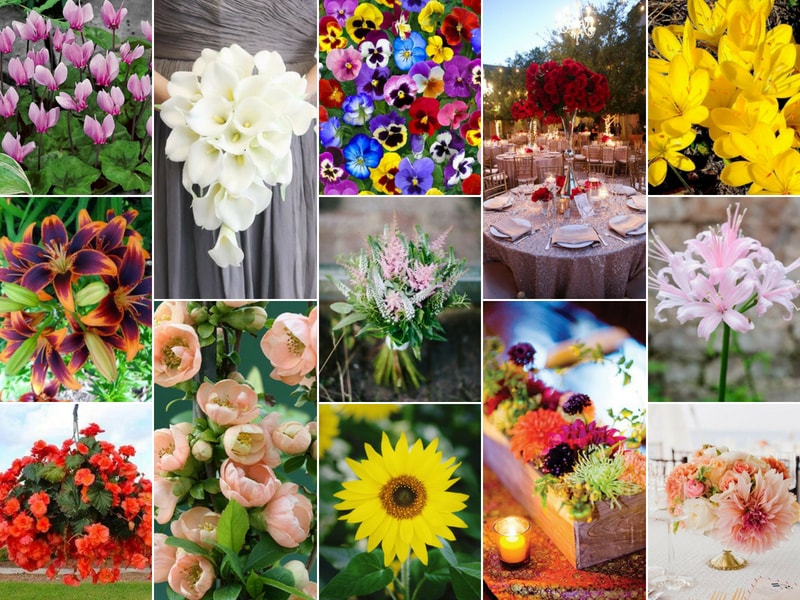 Winter: African Daisies, Alyssum, English Daisy, Iceland Poppies, Vygies, Nemesias, Pansies and Violas, Petunias, Snapdragons, Primulas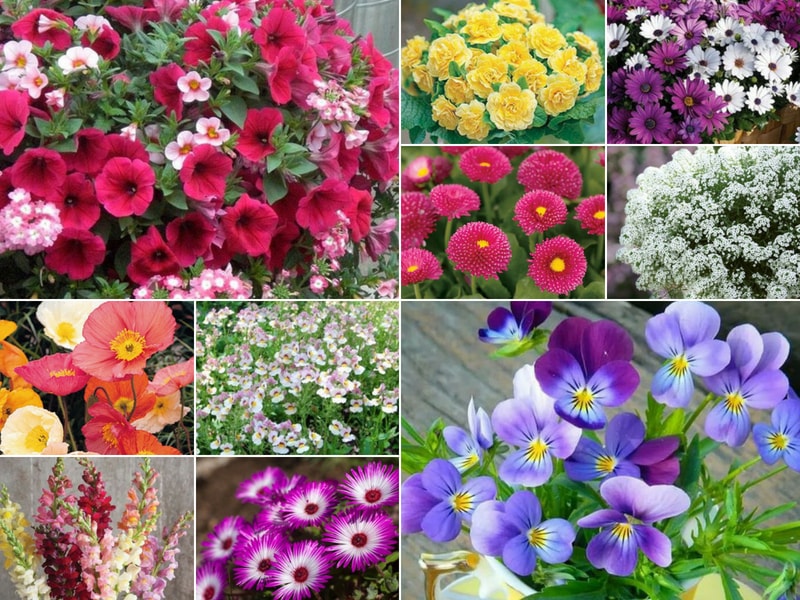 Spring: Tulips, Roses, Cherry Blossom, Freesia, Orchids, Peonies, Zinnias, Sweet Pea, Birds of Paradise, Dahlia, Anemone, Hyacinth, Ranunculus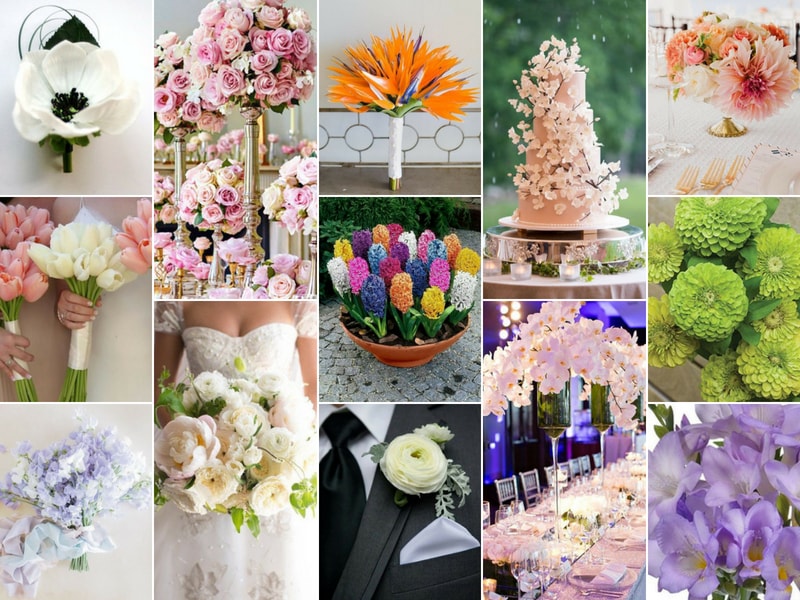 Wedding Flowers by Colour – by Teleflora.com
The Variety
Flowers are just unfortunately priced according to scarcity and the amount of times the plant flowers in a year, how many buds there are on a stem, etc.
As such, some flowers that are not as common are more expensive.
Flowers typically considered expensive include: Tulips, Orchids, Peonies, and Roses
Flowers typically considered more cost effective include: Dahlias, some lilies, most varieties of daisies
Most popular (and therefore more scarce) wedding flowers: Tulips, Orchids, Roses, Lilies, Ranunculus, Gardenias
The Top 10 Wedding Flowers – by Theknot.com
Also read – Planning The Ultimate Destination Wedding in South Africa
Your Colour Scheme
If you want to keep your floral budget reasonably low, and you want to ensure your flowers are in season in an effort to cut costs, first make sure that there are flowers available in season in the colour scheme of your wedding.
If, for example, you're planning a blood red winter wedding but there are limited naturally red blooms available in season in winter, you will either need to budget for flowers accordingly, or amend your colour scheme.
Tips When Choosing Wedding Flowers
Budgets
Remember to allocate a generous portion of your overall wedding budget to your wedding floral designs or flower arrangements, especially if you have dreams of lush and lavish floral design and/or imported flowers that don't naturally grow in your country or that are not farmed or greenhouse-grown in your area.
Remember that the more members of the bridal party, the more personal flowers you will have to purchase, so cutting down on bridesmaids and groomsmen can also save you money in your flower budget.
Tips On Choosing Your Wedding Flowers, by Weddingwire.com
The Venue
Taking your venue into account is crucial when you're planning your wedding flowers.
If you choose a venue with a lot of ornate architecture and visual busyness, you will need fewer flowers and/or floral arrangements in order to have the venue appear dressed.
In contrast, if you're set on having floral centerpieces but also love a minimalist look, make sure you choose a venue that is the epitome of a blank canvas so that the flowers will not overwhelm the wedding's minimalist charm.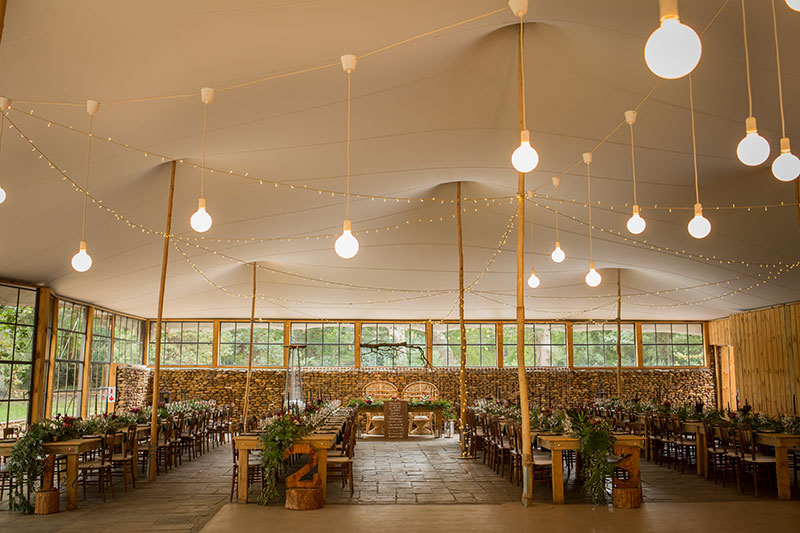 Getting Wedding Flower Ideas
Turning to favourites like Pinterest or Instagram for wedding flower inspiration is a recipe for an expensive wedding floral bill.
Instagram and/or Pinterest could see you falling in love with and committing to a bouquet featuring flower that simply aren't available in your area or in the season in which you are getting married and that will make them all the more expensive, and could price you out of your budget quickly.
A great way to get a feel for the kinds of flowers you may like to include in your bouquet at a realistic price is to browse local flower markets and florists' quarters in order to get inspired by flowers you already know are available in your area.
Kudos if you can go in more or less the same season too!
That way you will be able to get inspired by the flowers you could realistically get for your own wedding in that season.
All florists will have portfolios of previous weddings they've designed in your season and/or colour scheme, and they will be able to give you a more realistic idea of what you will and won't be able to procure for your own wedding.
Inspiration-worthy, pin-worthy flowers do not need to be out of reach – start local.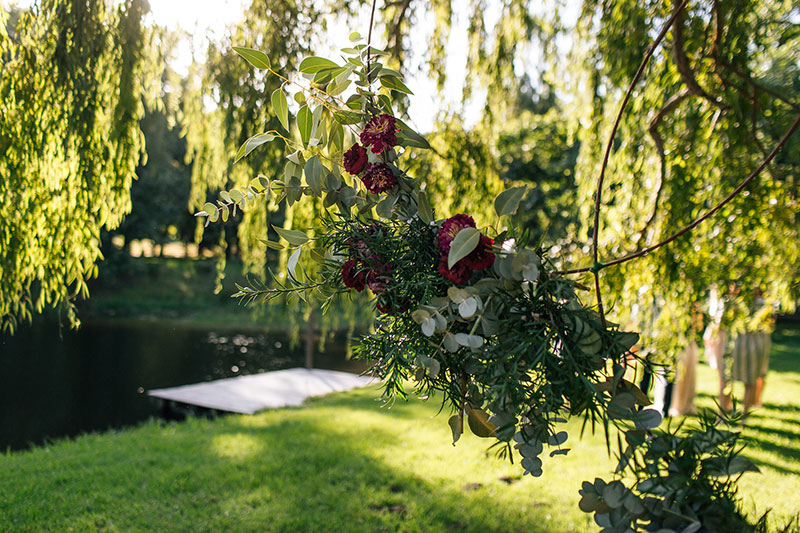 Hire a florist
Tying in with our point about inspiration above, hiring a florist is the best thing you can do for your wedding flowers.
Not only will they be able to arrange your flowers for you professionally and handle set-up on the day of, but your florist will be able to get you  flowers that you as a lay-person would not be able to procure yourself, and definitely at better (wholesale) prices.
Let the experts make use of their considerable expertise and contacts to bring your wedding flower dreams to life.
Know the basics
Educate yourself on the basics of floral design. Familiarising yourself with the seasonal availability of blooms, and the names and shapes of different bouquets will help you guide your florist to help them help you create your dream wedding floral arrangements.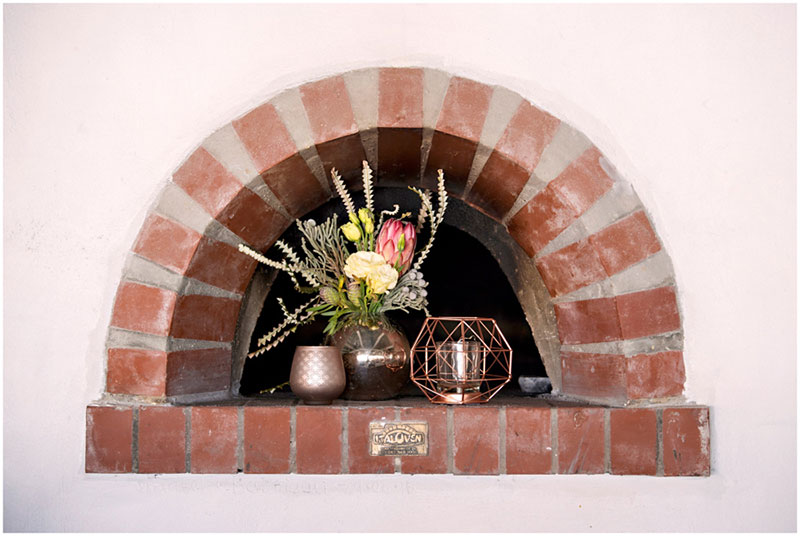 A Basic Wedding Flower Checklist – by Brides.com
Your colour schemes
If you're not fussy about variety, at least pin down a colour. If you can give your florist a colour pallette and a budget they can bring to life the most gorgeous wedding flowers you've ever dreamed of. The more free reign you can give these creatives, the more astounding your floral arrangements will be!
Ultimately, your flower arrangements can make or break the atmosphere of your big day.
It pays to be informed, and the more research you can do, and florists you can chat with before you set your budget for your big day, the more realistic a picture of your wedding flowers you will be able to paint for yourself in your mind's-eye beforehand.
So, before turning to Pinterest, scour some florists' websites for examples of their work by season and colour scheme and create a mood board for your wedding accordingly.
Please don't hesitate to contact Blank Canvas for all your wedding coordination and wedding floral needs. We look forward to hearing from you soon!