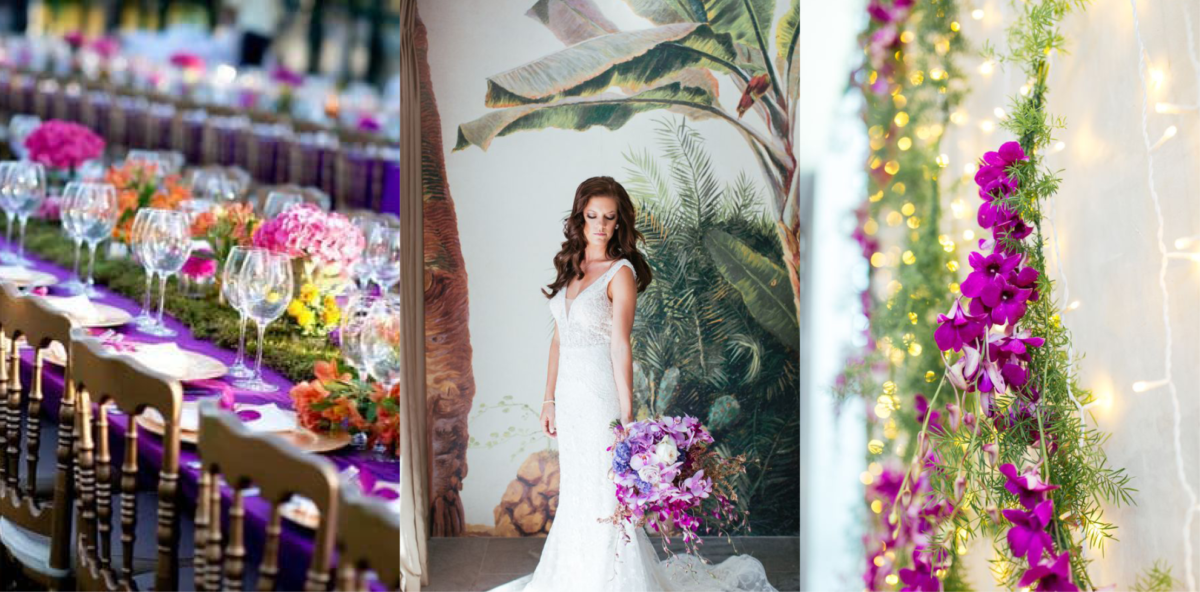 11 Jan

Introducing The Pantone 2018 Colour of the Year: Ultra Violet!

If your favourite colour's been purple for as long as you can remember, now is your time to shine! Pantone has named Ultra Violet (Pantone 18-3838) the Colour of the Year for 2018!

We pride ourselves on our ability to curate bang on trend events and that inevitably means being able to incorporate the Pantone Colour of the Year, and the latest wedding or other event decoration trends in order to create a unique and breathtaking visual spectacular that not only meets each client's individual needs, but exceeds their wildest dreams.

If you're thinking of incorporating Ultra Violet into your colour palette for your 2018 event, read on for insider tips on how to add pops of this otherworldly colour to your palette without sacrificing on style!

Ultra Violet in Decor
If you are going to include Ultra Violet in your colour palette for a 2018 wedding, event, or, really, anything that isn't a children's party, or a halloween shindig, you're going to want to pair the shade with lots of neutrals to avoid your decor looking garish.
Unless, of course, you're throwing a Mexican Fiesta themed party, in which case, the more (and brighter) the merrier, you should be thinking of adding pops of Ultra Violet to a more neutral palette that may include whites, blacks for a more moody look, silvers, other metallics, or even shades of grey.
The key to acing the incorporation of Ultra Violet to more refined functions in 2018 is minimalism.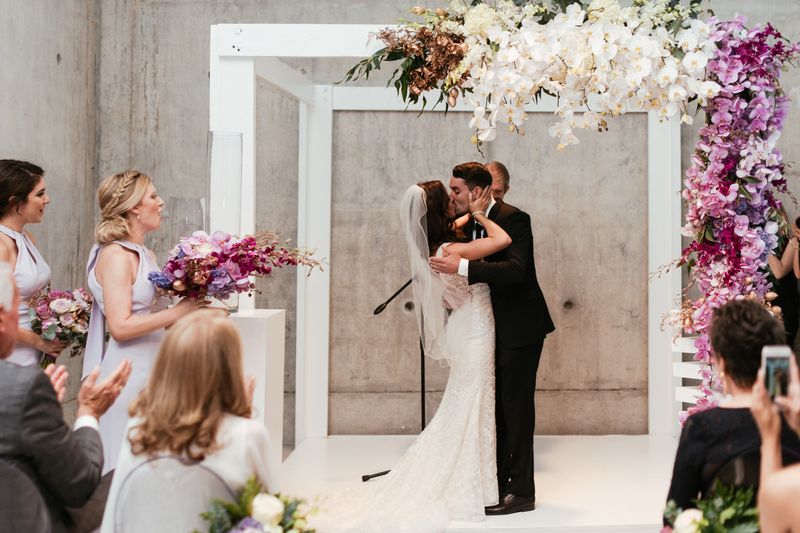 Ultra Violet in Florals
A great way to bring a pop of Ultra Violet colour to any wedding or other formal event is in bringing Ultra Violet into your floral arrangements.
Think an Ultra Violet bouquet, or centerpieces featuring such fragrant and flamboyant blooms.
Some blooms you may want to include in your floral arrangements and bouquet include, but are not limited to:
– Anemones
A soft bloom available primarily in the springtime (November – May), Anemones come in a variety of shades, including a lux purple hue which tends strongly toward Ultra Violet.
A moderately priced floral addition, including purple anemones to your bouquet or floral arrangements is a great way to add a pop of Ultra Violet to your tables.
Furthermore, white Anemones have a black center, and pairing Ultra Violet Anemones with the high-contrast neutral tone varietal makes for a stunning visual effect.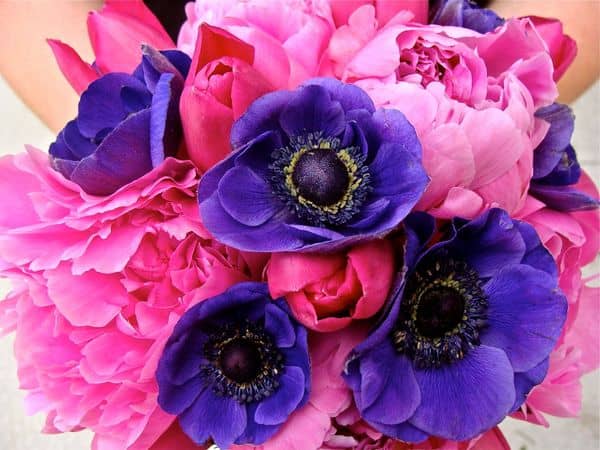 – Dahlias
A dramatic flower with a fascinating history, Dahlias are also available in a range of colours, including an Ultra Violet hue. Perfect for larger-than-life centerpieces and the host that favours architectural textures, Dahlias bloom in the summer and early autumn and are incredibly affordable as flowers go.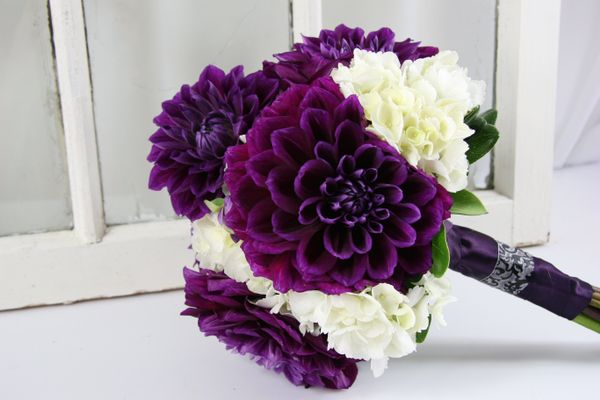 – Delphinium
For the minimalist or bohemian bride, a simple presentation bouquet of Delphiniums is absolutely perfect!
Naturally a gorgeous Ultra Violet hue, the Delphinium can hold its own in a larger arrangement, but truly makes a gorgeous arm sheaf bouquet all on its own.
Another plus in the Delphinium's column is that it blooms all year round and is somewhat affordable; especially because the robustness and volume of the blooms means you do not need to purchase as many stems when opting for a Delphinium-only bouquet.
Tulips
Not to be overlooked, the iconic dutch tulip comes in a perfect Ultra Violet-purple. This structural flower can be used in both traditional and more edgy, experimental and artistic arrangements and is widely available.
Blooming from November to around May, tulips are known for being on the pricier side, but including a couple for that pop of Ultra Violet colour is a surefire way to draw attention even with a minimal number of stems.
A good florist can work architectural, sculptural magic with a tulip if given the freedom to create and experiment!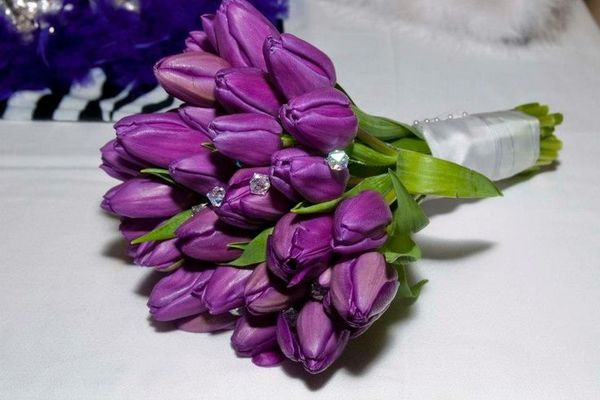 – Gladiolus
Gladiolus are another lovely floral to include in presentation bouquets, and single florets make lovely, eye-catching boutonnieres!
Available in other colours besides purple, the Gladiolus bloom all year round, and are cost effective! If you are planning a summer wedding outdoors, it may be worth noting that the Gladiolus is an odorless flower – meaning your bouquet/flower arrangements will attract fewer bees than if you used a highly fragrant bloom.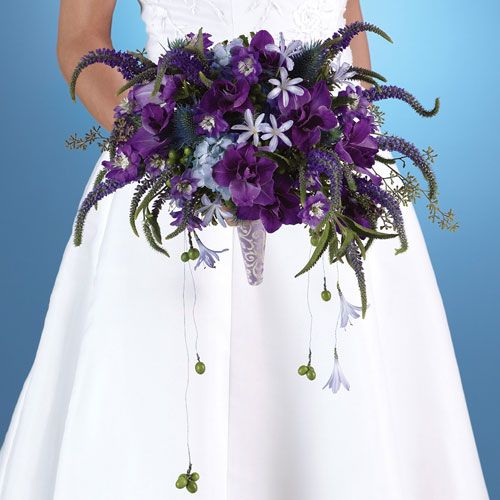 – Grape Hyacinth
A sweet-smelling Ultra Violet bloom, the Grape Hyacinth gets its name from the shape of its buds, and its scent – which is that of sweet grapes or candy. A single stem of Grape Hyacinth makes for a lovely boutonniere.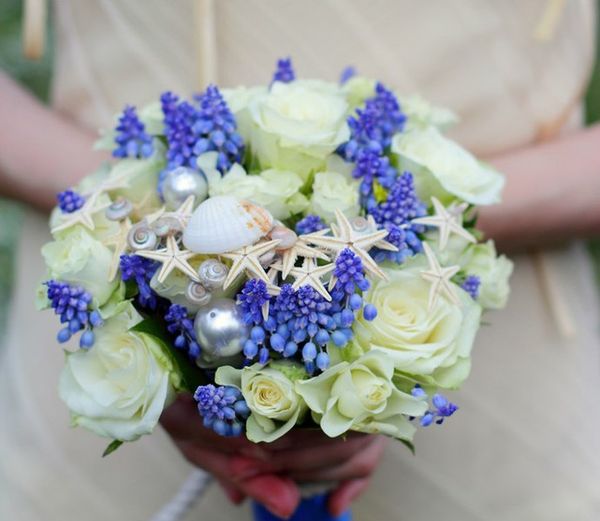 Ultra Violet in non-floral Decor
If you are opting for a flowerless wedding or event, rest assured, you can still incorporate Ultra Violet into your decor without sacrificing on sophistication and charm.
Deck your tables out with one hundred and one candles (maybe not all of them in purple…) in all shapes and sizes for an intimate, cozy atmosphere.
Glassware or coloured ceramic vases will also bring in the colour in a not-so-obvious way. If your table scape is fairly neutral, you can always use your stationery to bring in a touch of purple and the design can be as glam, or modern or romantic as you wish!
Napkin belly bands, menus, table numbers, thank you gifts and cards can all bring Ultra Violet to the party without taking over the party.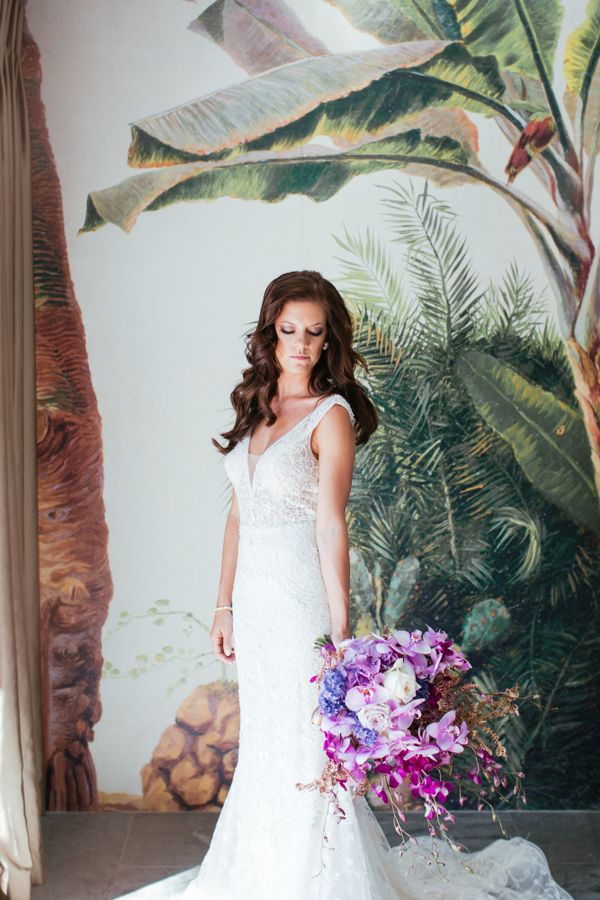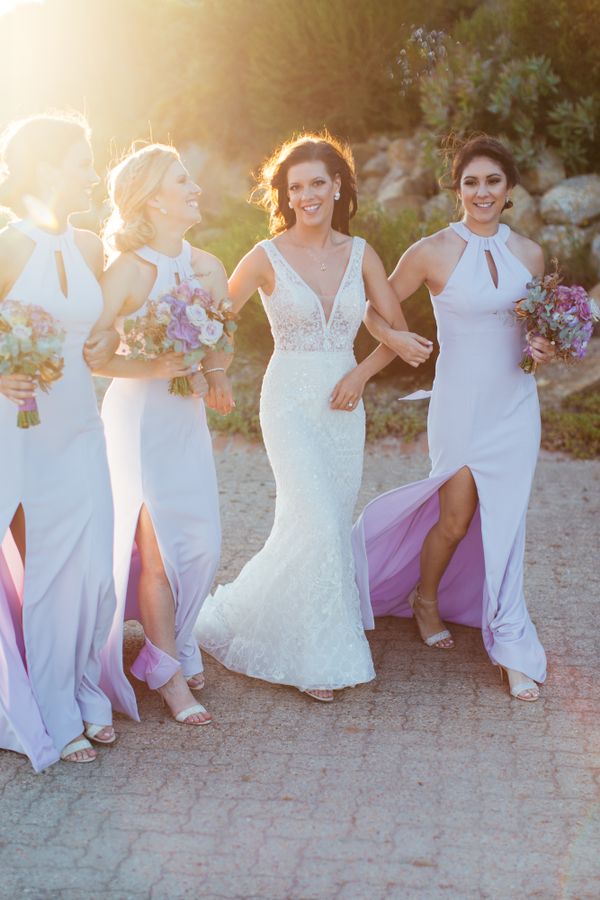 Ultra Violet Elsewhere
You can still include Ultra Violet in your wedding colour palette without necessarily including it in your wedding decor.
Why not have a mixologist come up with an Ultra Violet coloured signature cocktail for you to serve your guests at your wedding? You could bring in Ultra Violet in your cake design, your wedding lingerie, your wedding shoes, your groom's socks, and then some!
Your pops of Ultra Violet colour needn't be limited to venue decor and the floral arrangements.
When in doubt, trust the experts! If you need more help incorporating the Ultra Violet hue into your wedding or event, or even just want to take the weight of the planning off your own shoulders, Contact Us at Blank Canvas for all your event coordination needs, and expert insights, today!